Mayweather vs Ortiz: 50 Cent gives words of wisdom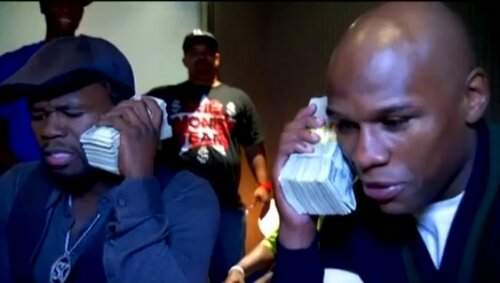 Has Mayweather's success gotten the best of him? I must say I was not at all surprised by Mayweathers actions on the HBO hit series 24/7: Mayweather vs Ortiz.
However, I was surprised to see 50 Cent stand up for Mayweather Sr. Rapper 50 Cent just might be able to have some positive influence on today's anticipated boxing match when Mayweather faces Ortiz.
On the first episode of HBO's series 24/7: Mayweather vs Ortiz, the topic turns to Floyd's dad. Floyd Jr. had been in a heated argument with Sr. on the show and ended up throwing him out of the boxing gym during the show.

Curtis "50 Cent" Jackson is long time friends with Floyd Mayweather Jr and is close enough to Floyd Jr to the point where he is comfortable giving him some advice on his personal life.
In the second episode Floyd Jr. decided to mock Floyd Sr. before 50 Cent steps to him with a few words of wisdom, using a stack of $100 bills to represent a telephone:
"Don't be arguing with your daddy, he loves you, man. He just looks at you and he see how good you actually became, and he wanna be a part of that."
It's a tough and sensitive subject that has clearly brought out the worst of Mayweather Jr. However, he is confident that the dispute will not have any sort of effect on today's fight against Victor Ortiz.
Mayweather had some extremely strong words for his father later in the episode:
"Me and my dad having a disagreement, all that's gonna do is make me go out and work that much harder. I couldn't care less, I'm not fighting my father. I don't have to speak to him again in my life. I'm fine with our without him in my life."
A very harsh statement from Floyd Jr, however maybe he should listen to 50 Cent. His father started him on his career path and throwing him to the curb like this in front of an HBO national audience is not the way to handle the situation.
If anything it only brought negativity to his camp and his training. And this just might be one of the factors that comes back to bite him in tonight's match up or later in his boxing career.
Like 50 said, Floyd Sr. just wants to be a part of one of the greatest boxers of this generation.