New Lingerie For Girls 4-12 Yrs Old, Photos Spark Sexualization Of Young Girls Debate!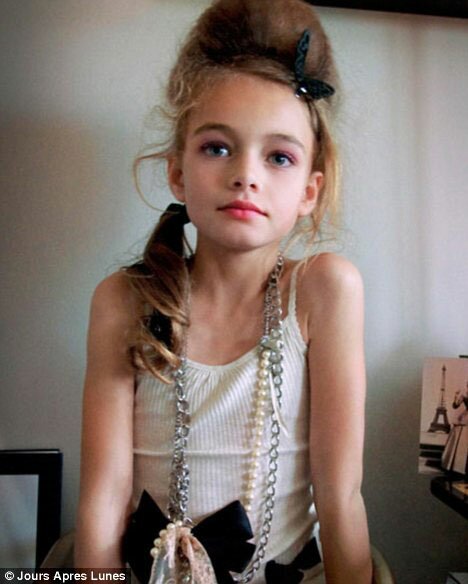 OK, the public was already questioning the new lifestyle of kids portrayed in fashion and entertainment and what parents and/or the world is tolerating or accepting when pictures of 10-year-old fashion model Thylane Loubry Blondeau surfaced of her posing in what some people are calling too adult-like model photos.
Thylane Loubry Blondeau can be seen in her latest model photos wearing make-up, looking into the camera as adult models do as if to arouse, wearing high heels, and even posing topless in one photo covered by only her hair and beads around her neck.
Well, if you think that was pushing the envelope, then how about French label Jours Après Lunes' new line of lingerie for kids.

The new line referred to as 'loungerie,' symbolizing a combination of lingerie and lounge wear, features a range of panties, bras, camisoles and lacey shirts, and more for girls four to 12 years old.
The photos of the girls posing in the new 'loungerie' is sparking debate as to whether the age and styling of kids underage is going too far.
Girls aged four to twelve years old wearing sexy-made bras and panties to lounge around the house or wherever. Hmmmm.
Most of the photos reveal the girls' bare legs and stomachs in bras and panties, and a few photos show three or more girls playing together in lacy wear, bras and panties.
While it seems that there was a fair amount of people saying that some or even most of Thylane Loubry Blondeau's photos were appropriate, even though her mom has since removed her Facebook, HipHopRX.com has learned, it seems that a fairly large amount of internet comments from people are calling this new 'loungerie' inappropriate, while there are still some people who disagree and claim it is OK.
Surely a thing of debate, to say the least.
Photos of the girls posing in Jours Apres Lunes lingerie for girls 4-12 years old and model photos of Thylane Loubry Blondeau