Lady Gaga's 'You And I' Video Leaks; Depicts Multiple GaGa's, Mermaid Sex (Scenes), More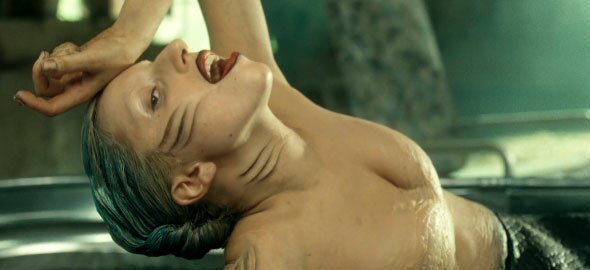 Lady Gaga's new music video for the song 'You And I' has leaked and depicts the rambunctious, unpredictable, talented singer in multiple roles including some sex scenes, even mermaid sex!
Lady Gaga's 'You And I' music video, which was reportedly scheduled to premiere this Thursday (Aug. 18) on an MTV special titled "MTV First: Lady Gaga," was reportedly filmed in her Nebraska cornfield.
GaGa posted via her Twitter F*CK THURSDAY" apparently in regards to the possible scheduled release.
After that, GaGa tweeted for her 1000th tweet the words "You must love all + every part of me, as must I, for this complex + incomprehensible force to be true."

In the video, Lady Gaga starts out jumping from scene to scene to sex scene, while slowly moving into a scene of her dressed rather sexy and 'girly' sitting at a piano in a cornfield along with her male alter-ego, which she plays.
News of the male alter-ego apparently called Jo Calderone actually broke last week.
The actual "I would walk 500 miles" video concept was apparently about Lady Gaga walking all the way from New York City to Nebraska to get her boyfriend back, which was depicted in the video scenes of GaGa walking while the camera pans down at her bleeding grassy-looking ankles.
Later the scenes go to some GaGa bondage in a barn, then some sexy dance scenes while dressed S&M-like, then on to the mermaid sex scene, while bouncing from scene to scene while throwing in a wedding scene and a kissing scene with Lady GaGa and her male alter-ego self.
Watch Lady GaGa's 'You And I' music video premiere on HipHopRX.com with an unexpected ending below: