Actress Anne Hathaway Does Lil Wayne Style Paparazzi Rap On Conan O'Brien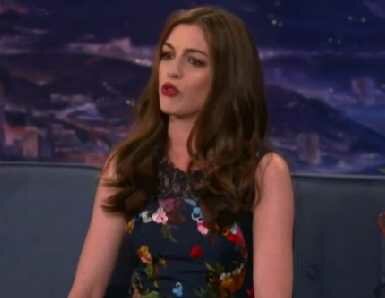 While doing an interview on Late Night with Conan O'Brien, actress Anne Hathaway became 'Lil Wanne' Hathaway as she switched into her Lil Wayne hip hop alter-ego after speaking about how the paparazzi made everything so intense while filming for The Dark Knight Rises.
The 28 year-old star will be starring as Selina Kyle (Catwoman) in the movie The Dark Knight Rises.
Since Anne Hathaway says she can't curse out the paparazzi she makes up dirty lyrics about them in what she calls her Lil Wayne style, after the rapper who recently made the Rolling Stone top list of Kings of Hip Hop, as reported on HipHopRX.com, along with Eminem, Jay-Z, Kanye, Drake, Nick Minaj and others.
"Yo I'mma paparazzi, I don't play no yazi/pa pa pa pa pa pa /I put the camera up your crotch – see….," raps Anne Hathaway on Conan.

After Hathaway finished rapping she joked about needing to be "ham" and it possibly threatening her career.
The Christopher Nolan's directed third and final installment "The Dark Knight Rises" is scheduled to be released on July 20, 2012.
Anne Hathaway is most known for her roles in The Princess Diaries, The Devil Wears Prada, Rachel Getting Married and Bride Wars.
Watch: Actress Anne Hathaway Does Lil Wayne Style Rap "Paparazzi"