Kelly Rowland Double Nip Slip Photos Leak Following Nicki Minaj Nip Slip (Pictures)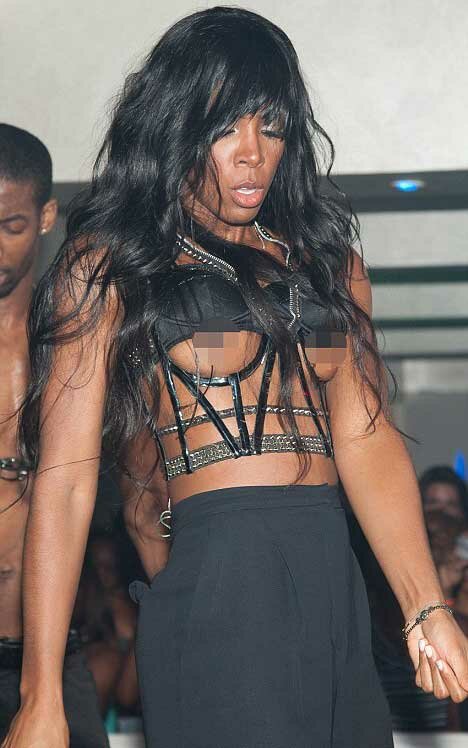 First the Nicki Minaj nip slip, now singer and X-Factor judge Kelly Rowland is the latest victim of a wardrobe malfunction which caused her double nip slip also caught in pictures which leaked online today (Monday, August 8, 2011).
As stated, Kelly Rowland's wardrobe malfunction which was a double nip slip comes not long after Nicki Minaj's Wardrobe Malfunction which exposed her nip slip just last week as reported on HipHopRX.com.

Much like Nicki Minaj's nip slip, singer Kelly Rowland accidentally had the wardrobe malfunction while performing live on stage in front of a onlooking audience of fans.
Kelly Rowland was performing her Motivation song in New Jersey and while dancing, her black satin bra-like top raised above her S&M-like outfit exposing Kelly Rowland's breasts and nipples.
Kelly Rowland, 30, who, according to her skin revealing feature in VIBE, is 'comfortable' in her skin, later tweeted about the incident saying "New Jersey crowd was amazing!! hope you enjoyed the show and didnt mind the peekaboo LOL!!! #kanyeshrug #stuffhappens."
Check out the Kelly Rowland nipple slip photos and see for yourself just how 'comfortable' Kelly Rowland looks!