Lil Wayne "Tha Carter IV" Tracklist Leaks With New Mixtape "Sorry 4 The Wait"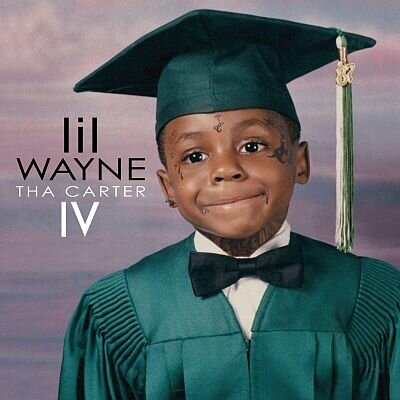 Lil Wayne's highly anticipated album "Tha Carter IV" tracklisting has been leaked after being repeatedly pushed back throughout the year.
The alleged cover art for "Tha Carter IV" was released on April 19, 2011 which features a picture of Lil Wayne aka Weezy in his kindergarten graduation attire and a face adorned/decorated with his infamous tattoos.

Official tracks have already been released from the forthcoming album which includes "6 Foot 7 Foot," "John" and the latest single "How to Love."
Guests line-up expected to be featured on "Tha Carter IV" include Drake, Nicki Minaj, Cee-Lo, Nas, will.i.am, John Legend, amongst others.
Meanwhile, while everyone awaits the actual release of "Tha Carter IV," Lil Wayne has released an apologetic mixtape "Sorry 4 The Wait," as reported on HipHopRX.com, to satisfy his fans.
"Tha Carter IV" is scheduled for release on August 29, 2011 on Young Money / Cash Money / Universal Motown.
Lil Wayne's "Tha Carter IV" Tracklisting (tentative)
1- It's Weezy's… (Intro)
2- 6 Foot 7 Foot (feat Cory Gunz)
3- Triple Exclusive
4- Nightmares Of The Bottom
5- My Wife Hate My Life (feat Cee-Lo Green)
6- How To Love
7- Block My Black Heart
8- Bad Strippin' (Girl's Bad)
9- Pray To Big Mason (feat Drake & Nicki Minaj)
10- Life Is A Goal
12- Destny Is Over, You Got Real
13- Retire My Royal
14- I'm Ready For You (feat. John Legend)
15- You & Me
16- My Ghost On It
17- Sometimes I Think About Her (Move) (feat Will I Am)
18- Wayne's World 19- Big Power (Outro) (feat Nas, Shyne and Jadakiss)
Deluxe Edition
1. Flowers (feat Lil Twist)
2. John (If I Die Today) – (feat Rick Ross)