Singer Monica Holds Second Wedding With Hubby, Basketball Star Shannon Brown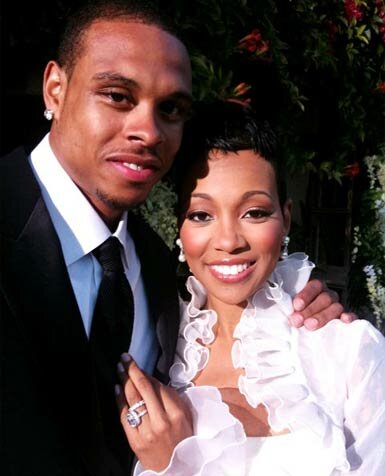 Grammy-winning R&B singer Monica, 30, and hubby, L.A. Lakers basketball player, Shannon Brown, 25, is a hot topic after tying the knot for the second time following eight months of marriage.
The two lovebirds who held their first ceremony privately on last November, this time held their second wedding ceremony over the weekend (Saturday) in Los Angeles with hundreds of friends and family members in attendance.

The occasion which was planned by celebrity wedding planner Mindy Weiss, according to sources, included a lavish ceremony at the Vibiana and a purple and blue-themed reception with a three-course gourmet meal.
Celebrity guests in attendance included the likes of Jermaine Dupri, Carmelo Anthony and Lala Vazquez, teammate Kobe Bryant, Ciara, Cee Lo Green, amongst others.
Monica Arnold-Brown and Shannon Brown met on last Summer during the taping of her music video "Love All Over Me" and got engaged in October. The two married a month later.
Monica has two boys, Romelo, 3 and Rodney, Jr, 6, from a previous relationship with ex-fiance, music producer and rapper Rodney "Rocko" Hill.
Shannon Brown also has a young son known by the nickname "Fatman" from a previous relationship.