Jennifer Lopez Nip Slip Photos Blamed For Sex Tape Hearing Postponement (Pictures)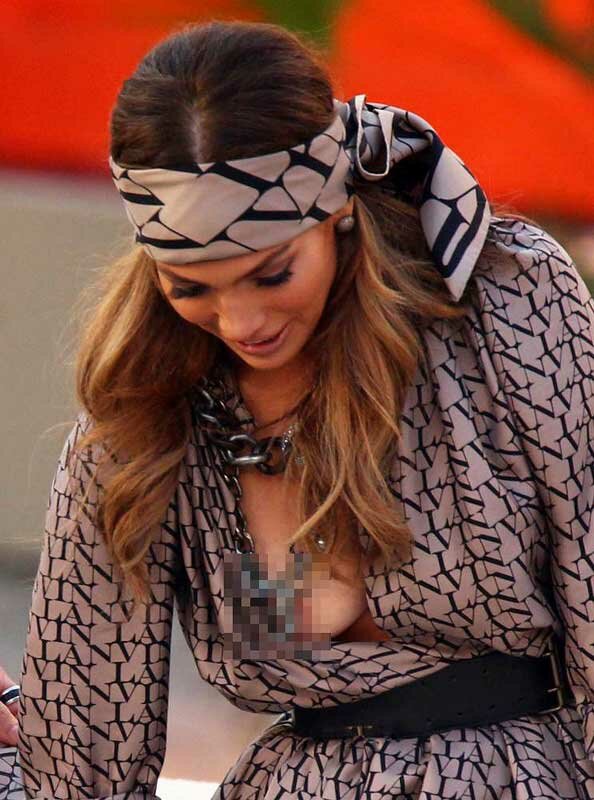 Jennifer Lopez nip slip pictures are causing quite a stir on the internet after the somewhat conservative, but very sexy celebrity actress, dancer, television producer and American Idol judge fell victim to a wardrobe malfunction as a guest on the German TV show "Wetten, dass..?"
During the videotaped wardrobe malfunction, the star actress was being helped to her seat by host Thomas Gottschalk; while worried about another part of her dress, Jennifer Lopez leaned over when suddenly bending over caused the top part of her dress to slide to the side revealing Jennifer Lopez's bare breast and nipple.

Filmed in front of a packed stadium on the island of Majorca, Spain, Jennifer Lopez appeared on the show "Wetten, Dass..?" as part of an all-star cast which included also the likes of Cameron Diaz and Heidi Klum.
Now following the wardrobe malfunction, Jennifer Lopez's nip slip is blamed for postponing a hearing of her current legal battle with ex-husband Ojani Noa to keep the Jennifer Lopez sex tape off the Internet, as reported on HipHopRx.com.
Lopez's attorneys have asked the courts to postpone the hearing tomorrow, while reps for Noa speculate the reasoning for the request is due to Jennifer Lopez's wardrobe malfunction.
So although Jennifer Lopez was and may be able to halt the release of her sex tape due to a temporary restraining order by a Los Angeles County Superior Court judge and now a court hearing rescheduling, this recent Jennifer Lopez wardrobe malfunction has given everyone a taste of what may come.
Pictures of Jennifer Lopez Nip Slip Photos on the German TV show Wetten, dass..?