Keyshia Cole, NBA player Daniel Gibson Married In Private Wedding (Pictures)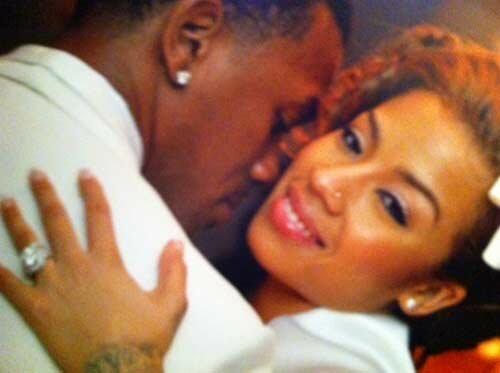 R&B singer Keyshia Cole is finally Mrs. Gibson after revealing that she had a private wedding ceremony on Saturday in Cleveland following rumors that started earlier last week.
The 29 year-old singer married the father of her toddler son, NBA ball player Daniel "Boobie" Gibson who's a guard for the Cleveland Cavaliers.
"Boobie" Gibson happily released the pictures of him and Keyshia Cole from their wedding via Twitter and Twitpic.

In one wedding photo, Keyshia Cole can be seen in an off the shoulder gown wearing a flower in her hair, pearls around her neck and a bouquet of roses in her hand.
Hubby Daniel Gibson sported an all white Tuxedo with a black vest and black tie.
Their one-year old son, Daniel Hiram Gibson Jr, wore a black tuxedo with a black tie and a white button down shirt.
The basketball player twittered "Always & Forever!! It's just like a dream to me.." about his family.
According to Keyshia Cole, in a tweet, this wasn't the big ceremony, however, the real ceremony will be after her tour with music producer and R&B singer R. Kelly and former Floetry singer Marsha Ambrosius.
Check out photos of Keyshia Cole Gibson and Daniel Gibson during their wedding private ceremony.
Keyshia Cole and Daniel Gibson Private Wedding Pictures