Shane Mosley's girlfriend Bella Gonzalez's Booty Video Trends On Twitter (Photos)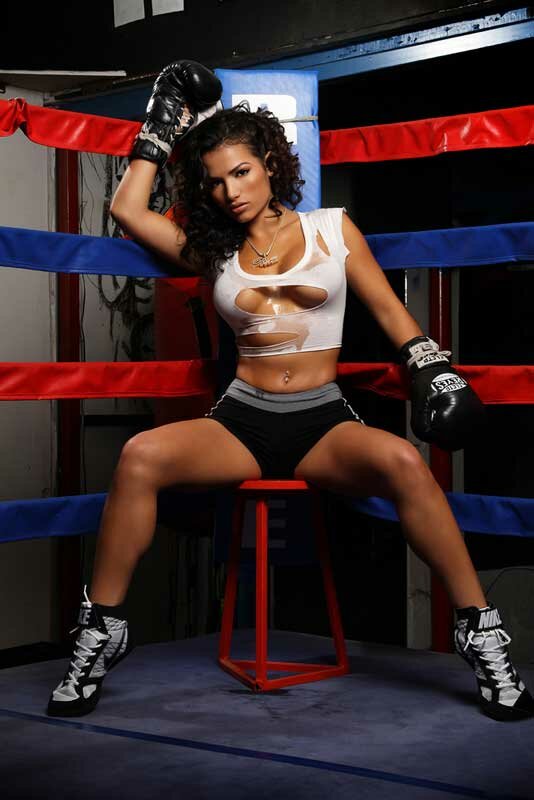 Multi-time champion boxer Sugar Shane Mosley might have lost his fight to Manny Pacquiao on May 7 for the welterweight title but he went home a winner with girlfriend Bella Gonzalez. During the videotaped fight with Manny Pacquiao at the MGM Grand in Las Vegas, Bella Gonzalez stood up for only a few seconds but the moment she stood up, a nice angle of Gonzalez's booty was caught on camera and it became a highlight of the boxing match.

The 21-year-old Cuban, Houston-raised, curvaceous hottie spoke with XXL Magazine just days after the fight about the trend that followed her 10 seconds of fan admiration when Showtime cameras zoomed in on Bella Gonzalez showing her lovely curves.
"I wasn't there to get attention. The main reason I was there was to support Shane. Of course people like seeing someone that's behind their partner or behind their man. The camera was on me the whole time. I didn't know when I was shown, but the purpose of me standing up and yelling was to cheer my man. Everybody was calling me and telling me that Twitter is blowing up and I'm the new hot topic. It was flattering. It was nice to hear, but at the end of the day, it wasn't for that purpose.." stated Bella to XXL.
Although Bella Gonzalez admits she's somewhat pursued a modeling career, she says that wasn't what she had in mind when simply cheering and supporting her man during his fight with Manny Pacquiao.
Bella says the reason it hasn't been blasted that she's Sugar Shane Mosley's girlfriend, before now, is because she wants to be known in her career for being Bella Gonzalez, and not just Sugar Shane Mosley's girlfriend.
Well the cat's out the bag now!
The sexy Bella, who's originally Cuban, but raised in Houston, says she's very Southern but came out to LA about 4 months ago and has been dating Shane for around 2 years now. Shane Mosley has a place in Big Bear, California, LA but they also have a house in Houston.
Modeling for two years now, Bella says she's also pursuing acting and is currently taking acting courses and working with a casting director.
In regards to her modeling career, Bella says she is actually friends with 50 Cent and has been talking over some online modeling options with the rapper/businessman, who has been lending her advice on how to generate income over the internet working with a couple of companies that he works with on his website ThisIs50.
With the spotlight now on his girlfriend, Bella was asked about how he feels now about it, and Bella says Shane believes "it's good for people to realize" that she is "beautiful" and 'doing her thing.'
Watch video: Bella Gonzalez Booty at Shane Mosley vs. Manny Pacquiao Fight