Lady Gaga Penis Shoes Censored On American Idol (Photos)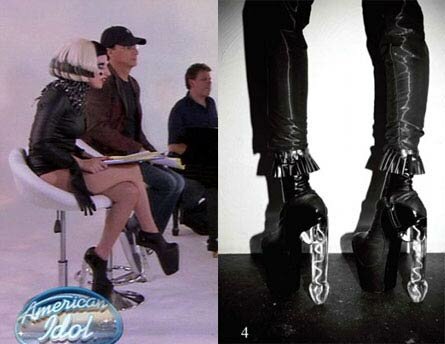 On last week, Lady Gaga was the talk of American Idol after wearing shoes that were designed after a man's private part during her appearance as a mentor on the talent competition show.
It shouldn't be surprising — but, yes, Lady Gaga wore clear plastic (Lucite) shoes designed in the shape of a man's penis and she wore them on American Idol which is viewed by teens and kids across the U.S.
In this video footage aired you really can't identify what the shoes are, but from the face of legendary music producer and chairman of Interscope-Geffen-A&M Jimmy Iovine who helped mentor the last four contestants James Durbin, Haley Reinhart, Lauren Alaina and Scotty McCreery they were something shocking because he happened to look down in awe at her feet.

It is believed that Lady Gaga bought the shoes from the London based store "Void of Course" which sells creative and artistic fashion with a dark and grunge twist. The handmade shoes are $4545.80 USD and can be bought in worn leather, patent Leather, and snakeskin with a clear or black perspex heel.
Meanwhile, Lady Gaga will be returning to perform on the American Idol finale on May 26, 2011 following the release of her album "Born This Way" which comes out three days prior.
Lady Gaga mentors top 4 American Idol 2011 while wearing penis shoes