Amber Rose Lingerie Photos, Sexy Nerdy Look + How She, Wiz Khalifa Hooked Up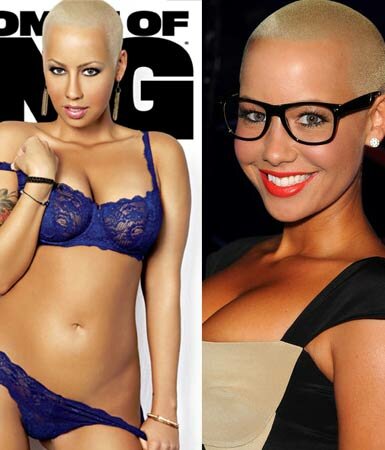 For those who missed the hot and nerdy look sported by model Amber Rose at 2011 Maxim Hot 100 Party, you can check it out now.
The curvaceous and almost-bald blonde bombshell sported a pair of vintage Wayfarer style nerd glasses while wearing a sterling bracelet, gold watch, diamond studded earrings, a cream and black dress, black open-toe shoes and black painted fingernails.
Others who attended the party included Kelly Rowland, Keri Hilson, Evan Ross, Dania Ramirez, Melody Thorton, amongst others.
The 2011 Maxim Hot 100 Party was held at Eden in Hollywood, California.
Now on to the lingerie….

It was first a rumor that Amber Rose would be appearing in King Magazine but, in late April, a teaser video was released followed by The Royal Peek from the magazine itself.
In the July/August 2011 issue, which will be released May 31, 2011, the hot and sexy model can be seen wearing an azure or royal blue colored lingerie outfit on the cover of the magazine. In another photo, she can be seen showing off her backside in a black thong while wearing a button-down shirt tied up to her breasts and some black open-toe stilettos.
As far as Amber Rose's interview, she talks about asking people why she is being ridiculed and does it have anything to do with her past as a stripper. Amber Rose also talks about being comfortable with her body, going topless on the beach and how she hooked up with Wiz Khalifa after offering him shades from her company despite saying she wouldn't deal with another person in the music industry, plus more.
Check out pictures from Amber Rose's King Magazine spread and her appearance at the 2011 Maxim Hot 100 Party.
Behind The Scenes: Amber Rose King Magazine Photoshoot