Sarah Palin's Got Love For Hip Hop Music But Not Rapper Common?!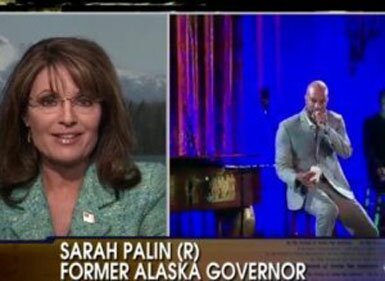 Sarah Palin admits that she likes hip hop and is a fan of hip hop music, but Palin doesn't exactly feel the same about hip hop artist Common.
Politician, first woman elected as Governor of Alaska, and Republican Party nominee for Vice President in the 2008 presidential election, Sarah Palin has revealed that she has love for hip hop, although the outspoken critic criticized a controversial visit by rapper Common to the White House who performed for First Lady Michelle Obama's "Evening of Poetry" in front of a small private audience.
On Fox News' "On the Record," Sarah Palin claims that she supports "free speech," but she does not agree with bringing into the White House someone like Common who she feels has glorified cop killing referring to one of Common's songs — A Song For Assata, referring to Assata Shakur — a Black activist, member of the Black Panther Party, step-aunt to hip hop icon Tupac Shakur (the sister of his stepfather, Mutulu Shakur).

Assata Shakur was charged and accused of multiple charges including shooting a police officer during a 1973 shootout with the cops.
Sarah Palin felt this was inappropriate to bring Common to the White House for this reason.
Common, who is not what many people would refer to as a "Gangsta rapper" is well known for working with children, being an author of children's poetry books, and for raising awareness for good causes such as HIV/AIDS and more through his own charity foundation, "Common Ground Foundation."
Still Sarah Palin seems to not agree with First Lady Michelle Obama bringing Common to the White House for her event, claiming it "lacked class and decency."
Palin's evidence that she's still a hip hop fan is that she, like Fox News anchor Bret Baier, knows the lyrics to hip hop iconic group Sugarhill Gang's 'Rapper's Delight' song.
Watch video: Sarah Palin: Common Invitation To White House Lacked 'Class And Decency'