Lil Wayne, Mary J. Blige, Nicki Minaj To Perform at Billboard Music Awards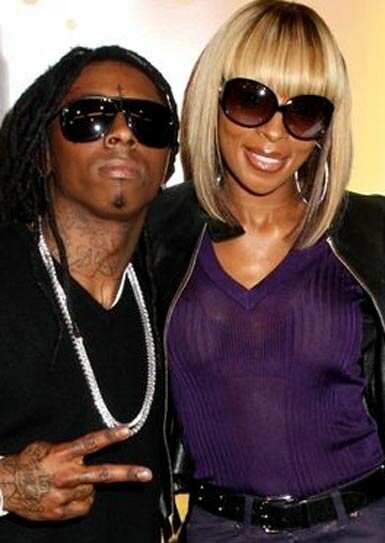 Lil Wayne and Mary J. Blige are the latest acts to be added to perform at the Billboard Music Awards which is set to return on Sunday. The Cash Money hip hop artist Lil Wayne will be joining the Queen of Hip Hop Soul Mary J. Blige for the music single "Someone To Love Me (Naked)." The song "Someone To Love Me (Naked)" is a remixed version from off Diddy-Dirty Money's "Last Train to Paris" which will be appearing on Mary J. Blige's tenth studio album "My Life II, The Journey Continues" scheduled to release September 3, 2011.
In addition to Mary J. Blige and Lil Wayne, other performers expected to perform at the Billboard Music Awards include Rihanna, Black Eyed Peas, Nicki Minaj, Pitbull, Ne-Yo, Cee-Lo Green, Jennifer Lopez, Far East Movement, Snoop Dogg and other.
Hip hop artist Eminem and Rihanna leads the Billboard Music Awards which has been on hiatus for (5) years. Eminem is a finalist in 18 categories then Rihanna with 19 of the 46 categories which include collaborations, followed by Lady Gaga with 15.

Beyonce will be honored with the Millennium Award during the awards ceremony in which she will be presented with a tribute by Rihanna, Cee-Lo Green and Nicki Minaj.
Some of the presenters for the Billboard Music Awards ceremony include Justin Bieber, Selena Gomez, Kylie Minogue, Trey Songz, Taylor Swift, Bret Michaels, Sarah Hyland, Randy Jackson, Lucy Hale, Eric Stonestreet, Joe Jonas, amongst others.
The Billboard Music Awards winners are determined by chart performance and social and streaming activity as chronicled in Billboard magazine and on Billboard.com during the period of Feb. 28, 2010 – March 1, 2011 which includes data from Nielsen SoundScan, Nielsen BDS radio airplay, Tubemogul, social media consumption gauged by Next Big Sound and tour grosses from Billboard Boxscore.
The Billboard Music Awards will air Sunday, May 22, 2011 at 8P/7C on ABC via the Las Vegas MGM Grand Garden Arena and will be hosted by "Hangover" star Ken Jeong.
2011 Billboard Music Awards Finalists:
Top Artist:
· Justin Bieber
· Eminem
· Lady Gaga
· Rihanna
· Taylor Swift
Top New Artist:
· Justin Bieber
· Taio Cruz
· Ke$ha
· Bruno Mars
· Nicki Minaj
Top Male Artist:
· Justin Bieber
· Drake
· Eminem
· Bruno Mars
· Usher
Top Female Artist:
· Ke$ha
· Lady Gaga
· Katy Perry
· Rihanna
· Taylor Swift
Top Duo/Group:
· The Black Eyed Peas
· Bon Jovi
· Lady Antebellum
· Linkin Park
· U2
Top Billboard 200 Artist:
· Justin Bieber
· Susan Boyle
· Eminem
· Lady Antebellum
· Taylor Swift
Top Hot 100 Artist:
· Ke$ha
· Bruno Mars
· Katy Perry
· Rihanna
· Usher

Top Digital Songs Artist:
· Eminem
· Ke$ha
· Bruno Mars
· Katy Perry
· Rihanna
Top Radio Songs Artist:
· Drake
· Bruno Mars
· Katy Perry
· Rihanna
· Usher
Top Touring Artist:
· Bon Jovi
· Michael Buble
· Lady Gaga
· U2
· Roger Waters
Top Social Artist:
· Akon
· Justin Bieber
· Eminem
· Lady Gaga
· Rihanna
Top Streaming Artist:
· Justin Bieber
· Eminem
· Lady Gaga
· Rihanna
· Shakira
Top Digital Media Artist:
· Akon
· Justin Bieber
· Eminem
· Lady Gaga
· Rihanna
Top Pop Artist:
· Justin Bieber
· The Black Eyed Peas
· Ke$ha
· Lady Gaga
· Katy Perry
Top R&B Artist:
· Alicia Keys
· Monica
· Rihanna
· Trey Songz
· Usher
Top Rap Artist:
· Drake
· Eminem
· Lil Wayne
· Ludacris
· Nicki Minaj
Top Country Artist:
· Jason Aldean
· Kenny Chesney
· Lady Antebellum
· Taylor Swift
· Zac Brown Band
Top Rock Artist:
· Kings of Leon
· Linkin Park
· Mumford & Sons
· Muse
· Train
Top Alternative Artist:
· The Black Keys
· Kings of Leon
· Linkin Park
· Mumford & Sons
· Muse
Top Latin Artist:
· Enrique Iglesias
· Pitbull
· Prince Royce
· Shakira
· Wisin & Yandel
Top Dance Artist:
· The Black Eyed Peas
· David Guetta
· Lady Gaga
· LaRoux
· Rihanna
Top Christian Artist:
· Casting Crowns
· MercyMe
· Skillet
· tobyMac
· Chris Tomlin
ALBUMS AWARDS:
Top Billboard 200 Album:
· Justin Bieber — "My World 2.0″
· Susan Boyle — "The Gift"
· Eminem — "Recovery"
· Lady Antebellum — "Need You Now"
· Taylor Swift — "Speak Now"
Top Pop Album:
· Justin Bieber — "My World 2.0″
· Black Eyed Peas — "The E.N.D."
· Ke$ha — "Animal"
· Lady Gaga — "The Fame"
· Katy Perry — "Teenage Dream"
Top R&B Album:
· Monica — "Still Standing"
· Rihanna — "Loud"
· Sade — "Stronger Than Love"
· Trey Songz — "Passion, Pain & Pleasure"
· Usher — "Raymond v. Raymond"
Top Rap Album:
· Drake — "Thank Me Later"
· Eminem — "Recovery"
· Nicki Minaj — "Pink Friday"
· Lil Wayne — "I Am Not a Human Being"
· Kanye West — "My Beautiful Dark Twisted Fantasy"
Top Country Album:
· Jason Aldean — "My Kinda Party"
· Lady Antebellum — "Need You Now"
· Sugarland — "The Incredible Machine"
· Taylor Swift — "Speak Now"
· Zac Brown Band — "The Foundation"
Top Rock Album:
· The Black Keys — "Brothers"
· Jack Johnson — "To the Sea"
· Kid Rock — "Born Free"
· Linkin Park — "A Thousand Suns"
· Mumford & Sons — "Sigh No More"
Top Alternative Album:
· The Black Keys — "Brothers"
· Jack Johnson — "To the Sea"
· Kings of Leon — "Come Around Midnight"
· Linkin Park — "A Thousand Suns"
· Mumford & Sons — "Sigh No More"
Top Latin Album:
· Marc Anthony — "Iconos"
· Camila — "Dejarte De Amar"
· Enrique Iglesias — "Euphoria"
· Prince Royce — "Prince Royce"
· Shakira — "Sale El Sol"
Top Dance/Electronic Album:
· Daft Punk — "Tron Legacy (Soundtrack)"
· Lady Gaga — "The Fame"
· Lady Gaga — "The Fame Monster"
· Lady Gaga — "The Remix"
· Owl City — "Ocean Eyes"
Top Christian Album:
· MercyMe — "The Generous Mr. Lovewell"
· Skillet — "Awake"
· tobyMac — "Tonight"
· Chris Tomlin — "And If Our God is for Us"
· Various Artists — "WOW Hits 2011″
SONG AWARDS:
Top Hot 100 Song:
· Taio Cruz — "Dynamite"
· Eminem Feat. Rihanna — "Love The Way You Lie"
· Bruno Mars — "Just the Way You Are"
· Katy Perry Feat. Snoop Dogg — "California Gurls"
· Usher Feat. will.i.am — "OMG"
Top Digital Song:
· B.o.B Feat. Hayley Williams — "Airplanes"
· Taio Cruz — "Dynamite"
· Eminem Feat. Rihanna — "Love the Way You Lie"
· Bruno Mars — "Just the Way You Are"
· Katy Perry Feat. Snoop Dogg — "California Gurls"
Top Radio Song:
· Taio Cruz — "Dynamite"
· Eminem Feat. Rihanna — "Love the Way You Lie"
· Bruno Mars — "Just the Way You Are"
· Usher Featuring Pitbull — "DJ Got Us Fallin' In Love"
· Usher Feat. will.i.am — "OMG"
Top Streaming Song (Audio):
· Taio Cruz — "Dynamite"
· Eminem Feat. Rihanna — "Love the Way You Lie"
· Lady Antebellum — "Need You Now"
· Bruno Mars — "Just the Way You Are"
· Nelly — "Just A Dream"
Top Streaming Song (Video):
· Justin Bieber Feat. Ludacris — "Baby"
· Eminem — "Not Afraid"
· Eminem Feat. Rihanna — "Love the Way You Lie"
· Lady Gaga — "Bad Romance"
· Shakira Feat. Freshleyground — "Waka Waka (This Time For Africa)"
Top Pop Song:
· Taio Cruz — "Dynamite"
· Bruno Mars — "Just the Way You Are"
· Katy Perry Feat. Snoop Dogg — "California Gurls"
· Katy Perry — "Firework"
· Katy Perry — "Teenage Dream"
Top R&B Song:
· Alicia Keys — "Unthinkable (I'm Ready)"
· Rihanna Featuring Drake — "What's My Name"
· Trey Songz Feat. Nicki Minaj — "Bottoms Up"
· Usher Feat. will.i.am — "OMG"
· Usher — "There Goes My Baby"
Top Rap Song:
· B.o.B Feat. Hayley Williams — "Airplanes"
· B.o.B Feat. Bruno Mars — "Nothin' on You"
· Eminem Feat. Rihanna — "Love the Way You Lie"
· Far*East Movement Feat. Dev & The Cataracs — "Like A G6″
· Nelly — "Just a Dream"
Top Country Song:
· The Band Perry — "If I Die Young"
· Lady Antebellum — "Need You Now"
· Miranda Lambert — "The House That Built Me"
· Sugarland — "Stuck Like Glue"
· Taylor Swift — "Mine"
Top Rock Song:
· The Dirty Heads Featuring Rome — "Lay Me Down"
· Florence + The Machine — "Dog Days Are Over"
· Mumford & Sons — "Little Lion Man"
· Neon Trees — "Animal"
· Train — "Hey, Soul Sister"
Top Alternative Song:
· Florence + The Machine — "Dog Days Are Over"
· Linkin Park — "Waiting on the End"
· Mumford & Sons — "The Cave"
· Mumford & Sons — "Little Lion Man"
· Neon Trees — "Animal"
Top Latin Song:
· Enrique Iglesias Featuring Juan Luis Guerra "Cuando Me Enamoro"
· Pitbull — "Bon Bon"
· Shakira — "Gypsy"
· Shakira Feat. El Cata — "Loca"
· Shakira Feat. Freshleyground — "Waka Waka (This Time For Africa)"
Top Dance Song:
· Lady Gaga — "Bad Romance"
· Lady Gaga Feat. Beyonce — "Telephone"
· La Roux — "Bulletproof"
· Edward Maya &Vika Jigulina — "Stereo Love"
· Yolanda Be Cool & Dcup — "We Speak No Americano"
Top Christian Song:
· Kris Allen — "Live Like We're Dying"
· MercyMe — "All of Creation"
· Sanctus Real — "Lead Me"
· tobyMac — "Get Back Up"
· Chris Tomlin — "Our God"