Caught On Tape: Woman Charged In Burger King Bikini Brawl (Mugshot, Photos)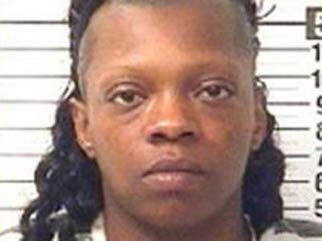 Alabama woman, Kimesa Smith, 31, goes ballistic in a bikini and assaults Burger King employees in Panama City Beach, Florida in an incident being referred to as the 'Burger King bikini brawl.'
If you thought messing up an order was nothing but all talk, then you're wrong, Kimesha Smith allegedly took it [getting an order wrong] to new heights.

In a video that was released on the Internet, HipHopRx.com watched in awe as a young woman argued at the front counter using expletives at the workers of the fast food restaurant. As she continued fussing, one of the workers came out the side door possible to talk with Kimesa Smith, only to find himself cornered by a mob of angry women as men stood around watching the disaster wind-up. Although the other women didn't physically attack the employee, Kimesa Smith, repeatedly hit him in the arm until he made his way back inside the door.
When he left, Kimesa Smith made her way back to the counter and beginning yelling, "Where yah scary a– h–s at now?"
The person who filmed the incident, described the entire event as their best Spring break ever, while Kimesa Smith threw trays and other objects at the Burger King employees.
Kimesa Smith climbed on top of the counter yelling, pointing and striking employees. An anger Kimesa even made her way to picking up a water container and throwing it at the employees following one of her 'crew' members throwing a napkin holder towards the counter.
From the looks of it, Kimesa may not be the only one who will be singing the new 'Burger King order wrong' song.
So what the deal now? Kimesa Smith, who is stated to be from Montgomery, Alabama, has now been charged with misdemeanor battery for the March 19th event as well as felony criminal mischief with damage of more than $1,000, disorderly conduct and resisting arrest.
All of this because Kimesa Smith was unhappy with an order. Hmmm.
Watch video: Bikini Brawl At Burger King