Ashton Kutcher Puts His Sunset Strip Bachelor Pad Up For Sale For $2.6 Million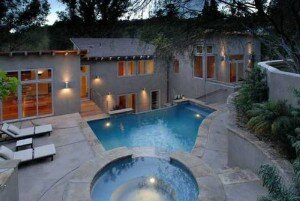 That 70′s show star Ashton Kutcher has finally put his Hollywood bachelor pad up for sale. The actor and producer is the latest to put up his celebrity home in the real estate market.
After being married to actress Demi Moore for almost six years, Ashton Kutcher, can finally say goodbye to his bachelor pad that is located in Hollywood's Sunset Strip area. The actor is reported to be selling the 4 bedroom, 4 1/2 bath mansion for $2.6 Million.

The Hollywood home also features a home theater, a two-story wine cooler, a pool that is equipped with a waterfall and an infinity-edge spa. It sits on almost an acre of land near Sunset BLVD.
Kutcher reportedly bought the property for $1 Million in 2004 shortly before marrying his actress wife Demi Moore.