Maya Rudolph Pregnant, Shows Off Baby Bump + Photos, Movie Bridesmaids Trailer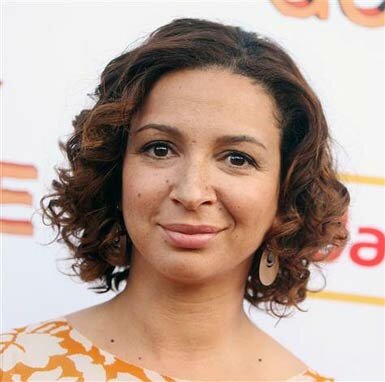 Former Saturday Night Live comedienne and actress Maya Rudolph is expecting her third child with partner Paul Thomas Anderson. The celebrity star was spotted showing off her baby bump Sunday at the Milk and Bookies event.
Maya Rudolph, also most known as the daughter of legendary singer Minnie Riperton who died of breast cancer at 31, has two daughters — Pearl Minnie, 5, (born October 2005) and Lucille, 1, (born November 6, 2009) with Oscar nominated film director, screenwriter, and producer Paul Thomas Anderson.

Paul Thomas Anderson is most known for directing "Magnolia," "Boogie Night," "There Will Be Blood" and "Punch-Drunk Love."
In other news, Maya Rudolph will be starring in the comedy movie "Bridesmaids" with co-stars Kristen Wiig, Rose Byrne, Jon Hamm, Melissa McCarthy and Ellie Kemper.
"Bridesmaids" is directed by Paul Feig and produced by Judd Apatow, Barry Mendel, and Clayton Townsend ("Knocked Up" and "The 40 Year Old Virgin").
The movie "Bridesmaids" is scheduled to release in theaters on May 13th.
Movie Trailer: Bridesmaids