Celebrity Apprentice Candidates NeNe Leakes & Star Jones Call Truce, End Feud

NeNe Leakes, who's known for being very vocal on The Real Housewives of Atlanta reality show, has been feuding with cast member Star Jones on Celebrity Apprentice which resulted in the two actually getting into a screaming frenzy.

According to RadarOnline, the two stars are trying to get along better and have called a truce off camera after noticing things were getting out of hand.
The feud initially started due to NeNe Leakes feeling that Star Jones was trying to be the boss of their team A.S.A.P., as well as over make-up, hair and wardrobe.
As the feud was going on, allegedly NeNe Leakes added to it when she appeared on the Wendy Williams show and made the statement that Star Jones was special and she wouldn't spit on her if she was even on fire.
Now we just have to see how long this truce will last since both women are very outspoken and are highly competitive.
If you missed Celebrity Apprentice on last week, Star Jones and Dionne Warwick were sent to the boardroom with project manager Lisa Rinna after Rinna failed to deliver on presenting a book and play to kids. During the meeting, Donald Trump instigated and questioned rather Rinna could speak up for herself as Star Jones and Dionne Warwick made valid points about the entire project and stated that she was crumbling under pressure. Out of anger, Lisa Rinna told Star Jones, "you threw me under the fu-king bus!"
In the end of it all, Lisa Rinna was booted.
On the first episode, David Cassidy was booted for being a little too soft-spoken and, like Lisa Rinna, he wasn't speaking up for himself during the Pizza project.
Celebrity Apprentice airs on Sundays at 8PM CST on NBC.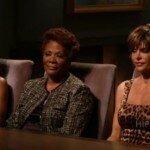 Watch Celebrity Apprentice Child's Play

Watch Celebrity Apprentice Season Premiere