Rihanna Says Her Father Betrayed Her, 'I Never Thought He'd Do That To Me!'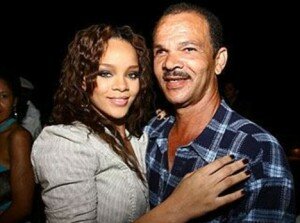 RnB queen Rihanna opens up about her estranged father in a recent interview leaving her questioning their relationship.
HipHopRX.com, like other media outlets, covered the whole Chris Brown/Rihanna assault news in Feb. 2009 that resulted in their break-up and C.B. being arrested. Rihanna's father, Ronald Fenty, took to the media to express his concern for his daughter and ventilate his rage against Breezy following that incident.
Not only did her father share his thoughts on the matter, he also began telling personal things about Rihanna that the general public had no business knowing and, according to Rihanna, a lot of things were lies.

Allegedly, Rihanna and her father has had a disturbing relationship for as long as the singer can remember due to his substance abuse. Rihanna apparently feels as though her father has betrayed her by discussing her personal info to the media; leaving Rihanna to question what she really means to him.
"It really makes me question what I have become to my father," stated Rihanna in the April edition of US Vogue.
Rihanna described the ordeal as "really strange" and says that when you grow up and really feel you're apart of your family, you never think they would do what her father has done to her.
Rihanna talked about how she felt about her father receiving money from selling lies about her to the media.
Rihanna says that after the Chris Brown assault, her dad went to the press and spilled a bunch of lies because he never even called her to find out how she was doing or anything.
Rihanna claims Ronald Fenty went to the press first to sell his lies and he's done it again, so she's in the "whatever, I tried" attitude now.