American Idol Stefano Langone Drunken Arrest, DUI Exposed?!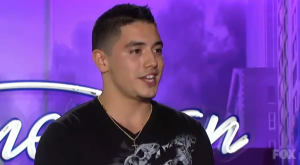 Stefano Langone, the American Idol 'Wild Card' finalist, has a shocking secret that was revealed recently. Details Anyone?
As an Idol backstory for American Idol contestant/finalist Stefano Langone, viewers were enlightened on an almost fatal car accident involving Langone and a drunk driver. Langone was nearly killed when his vehicle was struck by a drunk driver in 2009.
Idol fans were in awe as Langone recounted his story.
Langone claims his life took a 180-degree turn on May 28, 2009 when an accident changed his life, unfortunately for the worst.

Langone revealed that on that day – a day he will never forget – he woke up to a firefighter screaming the words, 'He's alive! He's alive!'
On May 28, 2009, the day of the accident, Langone suffered two broken arms, a fractured pelvis and several other injuries.
Langone continued with his tale saying that although he was told he might not ever walk the same again, he was on his feet in less than 4 months.
Langone claims that being in a wheelchair and not being able to play his piano, made him that much "hungrier" for life.
Here's the shocking part of the whole thing. He failed to mention that he too was arrested on DUI charges just one year after being the victim of a drunk driving incident.
Here's the scoop… Langone was apparently pulled over for speeding and failing to use his turning signal before changing lanes sometime in 2010. He was then asked to exit his vehicle to perform several field sobriety tests that he reportedly failed miserably. The state trooper arrested Langone and he was then taken to the Washington State Police Headquarters.
"While en route, Langone began singing," according to the report made by the trooper.
We're guessing Langone was a victim in that incident as well?