Amber Rose Talks New Radio Show, Sex Tapes, Being A Stripper at 15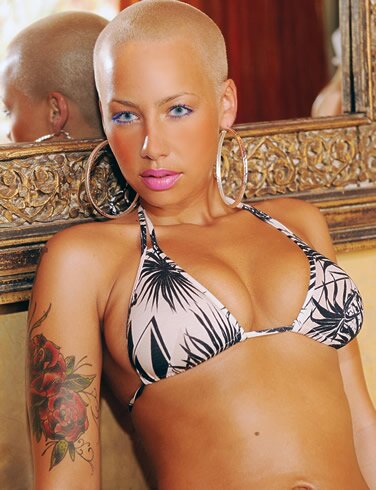 Ford Model Amber Rose became the news radio talk show host on Jamie Foxx's SiriusXM channel on last weekend and revealed a number of things about herself. Rose appeared as a guest on the show to talk about everything from being a 15 year-old stripper, possibly being in a sex tape and of coarse her ex Kanye West.
Amber Rose sat down with her new boss man, Jamie Foxx, for an interview during his radio show 'Foxxhole' to address the rumored release of a sex tape.

According to Amber Rose, there's not going to be a sex tape and that she's not into that sh-t. Amber Rose states that she's been offered a huge sum of money but chose not to do it, but instead took the high road due to her past and her profession.
"… what I did in my past doesn't mean that I would do that," Amber told Jamie Foxx.
She went on to tell Foxx that she grew up as a South Philly hoodrat and began stripping at age 15.
When asked how she became famous, Amber says she never meant to be famous, "it just happened to me."
Amber Rose went on to say that she was with someone [Kanye West] that she loved very much and when they were out people would request to Kanye to snap a picture of herself and them. As for their relationship, Amber Rose described it as genuine, saying that they were in a committed relationship and it so happen that when the two of them were out, she became famous.
"He was with a girl for six years that he was going to marry. What's her name again??," says Amber Rose.
Amber is referring to Kanye West's ex-fiance' Alexis Phifer, who had an on and off again relationship from 2002 until it ended in 2008.
In other news, Amber Rose recently took twitter to defend herself after being targeted about her weight when photos showed her voluptuous side in a pair of Leopard print spandex. The model revealed that she stands 5'9 and weighs 148 and asked what has she done wrong.
"I just don't get it," Amber Rose wrote.
Meanwhile, Amber twittered that she hoped that her hubby [Wiz Kalifha] wins a Woodie. A couple hours later, she followed up with "Ooooh yea! I'm so Proud of u! @Realwizkhalifa My baby Won Kisses*".