Tyra Banks Talks Harvard Business School and New Book 'Model Land'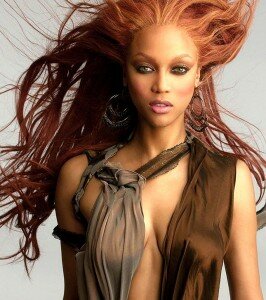 One of America's most sensational models of all time turned TV Host/media mogul — Tyra Banks — is now enrolled in classes at Harvard's Business School. Tyra Banks tells MTV News that she started Harvard last summer and didn't really talk about it.
Tyra added that it was very incognito, but she has decided to spill the beans now because "it's a positive thing" for young girls to see that they can continue to educate themselves no matter where they are in their life and still be fabulous, fierce and feminine.

Tyra wants ladies to feel empowered to "take it to the next level."
Even with all of her schoolwork and her hit series, 'America's Next Top Model,' Tyra is taking on a new project also. Tyra is writing a book labeled 'Model Land' about a modeling academy on top of a mountain in Matopia. In order to attend this school and become a supermodel with powers, an "intoxicbella," you have to have narrowly defined beauty.
"Four girls find themselves in this school that are not supposed to be there at all… and over the course of the book, they change what beauty means across the world," Tyra tells MTV News.
Tyra's first novel will be on the shelves in September.