Eminem's Teenage Daughter Hailie Jade Mathers' Twitter Account Fake?! (Photos)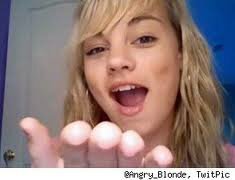 Eminems daughter's twitter account, that has been making headlines of how "sweet" and how "cute" and "wise" she is, is reportedly a fake Twitter account.
Much talk has been circulating about Hallie Mathers' supposed twitter account 'Angry_Blonde'. The reason for the talk is not only the fact that she is Eminem's daughter but because of tweets that were posted. The tweets ranged from comments on love and relationships to the disaster in Japan.

Just recently Eminem's manager, Paul Rosenberg, confirmed that the twitter account was a fake and that it was not Hallie's in fact Hallie does not have a twitter account at all.
Whoever the imposter is, she is sure gaining some fanfare with her wise words and thoughts on multiple subjects.
At least it wasn't one of those accounts made to downgrade a celebrity. But, either way, lying about who you are either on Twitter or anywhere is wrong so maybe since the mystery girl is found out, she will delete the account or tell the truth about who she is.