Red Cross Launches Japan Effort With Katy Perry, P. Diddy, Chris Brown, Others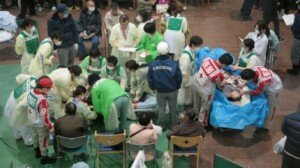 Celebrities are using their social pull to get help for the people affected by Friday's massive Japan earthquake and tsunami. Katy Perry tweets early Sunday morning for everyone to remember to "pray for Japan" and asked her followers to text REDCROSS to 90999, as the American Red Cross organization has now joined the effort for Japan recovery.
The American Red Cross is working with celebrities and accepting donations of $10 or more which will go to Japan's emergency relief effort.
Celebs are using twitter to offer personal tributes and prayers for the people who have been devastated by the tragedy.

P.Diddy is also one of the celebs working working with Red Cross and tweeted to his followers to "keep texting" stating the quake and tsunami victims in Japan needs their support.
The message was echoed throughout the morning and afternoon by stars such as Conan O'Brien and Chris Brown, each asking their followers for donations to the humanitarian organization which has won the Nobel Peace Prize three times for it's relief efforts.
The American Red Cross and other relief organizations desperately need help as the death toll following the Japan earthquake and tsunami is at 14,000 and rising.