Justin Timberlake, Co-star Mila Kunis Dating After Jessica Biel Break-Up?!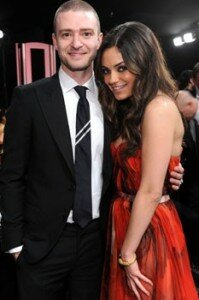 Only days after Justin Timberlake and Jessica Biel announce their break-up, US reports reveal that the Memphis pop star and actor has been getting close with his co-star, Mila Kunis.
The Black Swan actress Mila Kunis, also Justin's co-star in the film 'Friends With Benefits,' split from eight year lover Macaulay Culkin in January.
Now a source tells E! Online that Justin is very interested in Mila and they have been flirting although, so far, nothing has really happened between the new couple.

Representatives for Justin and Mila aren't saying anything one way or the other, but does that really mean anything?
What do we think about Justin Timberlake and Mila Kunis as a couple? Can it be? Hmmmm.
The story of the Friends With Benefits movie, which along with Justin Timberlake and Mila Kunis features a cast of stars including Woody Harrelson, Emma Stone and Patricia Clarkson, centers around two professionals who are too busy for a mate so they meet and decide to agree to an intimate relationship with no strings attached but suddenly the guy falls for her, but she is dating someone else.
The Friends With Benefits film is set for a July 22, 2011 release.