Eminem Is Certified Diamond Again After Reaching 10 Million Album Sales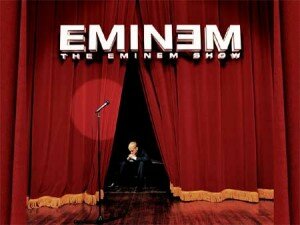 Detroit rapper Eminem has beaten the odds by becoming one of 5 Hip-Hop albums to have a certified diamond status, selling 10 million records.
On Monday (March 7), the RIAA certified it and recognized Eminem's 2002 album "The Eminem Show" as selling over 10 million copies. This has Eminem fans in quite an uproar.
This isn't the only album the rapper has had to go diamond as many seem to believe. Eminem's album "The Marshall Mathers LP" also has earned this honor.

Many of Eminem aka Slim Shady's other albums are also on their way to earning the diamond status, such as 'Encore' which has sold 7 million and his newest album "Recovery" that has reached 3 million and steadily rising.
In other news, on last month, Eminem was spotted recording his music video "Space Bound" with porn star Sasha Grey. "Space Bound" is reported to be the fourth single which will be released off his album "Recovery."