Eminem Stars In Animated Super Bowl Commercial for Lipton's Brisk Iced Tea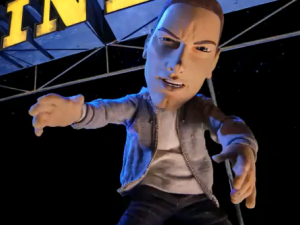 Eminem starred as a claymation character in a Lipton's Brisk Iced Tea commercial that aired during 2011′s Super Bowl XLV. Details, video commercial inside.

As reported on HipHopRX.com earlier this week, rapper Eminem may be furthering his bad boy persona by starring as a boxer in a new movie 'Southpaw' Inspired By '8 Mile,' but this commercial did as well.
In the new 2011 Super Bowl XLV Lipton's Brisk Iced Tea commercial featuring Eminem, the rapper shows that bad boy/celebrity persona by throwing demands at the producer.
Some of the demands were that he needed hot chicks, to shoot the commercial in his house and to record his own music.
When he made his last demand that the name of the drink be changed and the producer denied him, Eminem threw the boss off of the building.
Watch video: Lipton's Brisk Iced Tea Eminem Super Bowl Commercial
Eminem also starred in a Chrystler commercial during the Super Bowl.
Watch video: Chrysler Eminem Super Bowl Commercial – Imported From Detroit