American Idol Nashville Auditions Bring Out J-Lo's Other Side + Miss Teen USA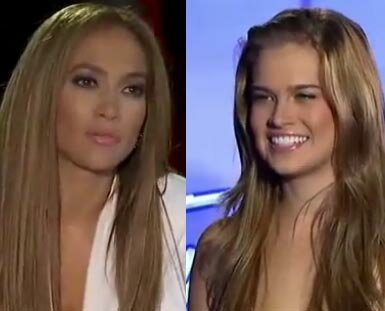 We're late on this one but 'American Idol' returned to Nashville, Tn. on Thursday bringing out Miss Teen U.S.A. along with Jennifer Lopez' not-so-friendly side. A hand full of contestants from the Music City will make their way to Hollywood.

'American Idol' auditions landed in Music City (Nashville,TN.) back on Thursday (Jan. 27) for the second time in the history of the show. The audition's took place at the Ryman Auditorium, former home of the Grand Ole Opry. To some, 'Idol' audition's are a life changing experience but the one's who don't make it to Hollywood seem to think it's the end of their singing careers. That's not the case for 19 year old Stormi Henley, former Miss Teen U.S.A. 2009 winner, from Crossville, TN.
Stormi's song of choice was 'Father Can You Hear Me', a gospel melody by Tiffany Evans. The performance wasn't bad though her voice was squeaky as she tried to hit the high notes. According to 'Idol' judge Steven Tyler, Stormi, with a little more practice, could go far in her music career and said 'Yes'. J-Lo, on the other hand, think's Stormi should stick to looking pretty and said 'NO' but it was Randy Jackson's 'Yes' that gave the former Miss Teen U.S.A. the golden ticket to Hollywood.
Joining Stormi Henley in Hollywood are the ex-couple Rob Bolin and Chelsee Oaks who paired up to sing 'To Love Somebody' by the Bee Gee's. Glen Hansard, Marketa Irglova and Nashville native Jackie Wilson along with an African-American girl by the name of Adrienne Beasley, who was adopted by a white couple when she was 2, will meet again in Hollywood for a shot at becoming the next 'American Idol'.
Stormi Henley Audition: American Idol 10