Karrine 'Superhead' Steffans Says She 'Got It In' With Jay-Z Before Beyonce?!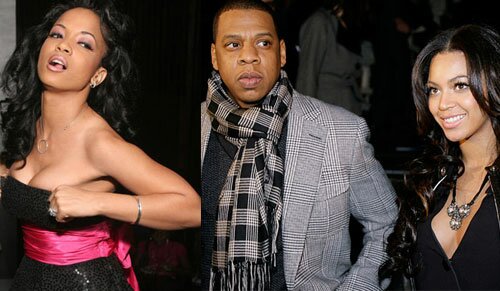 Reportedly, rumors are spreading that Karrine Superhead Steffans or someone is making claims that she and Jay-Z were 'getting it in' at freaky sessions before Jay Z and wife Beyonce got married.

Actually, rumors of 'Superhead' and Jay-Z have been around since 2006… since the release of Karrine Steffans' book Confessions of a Video Vixen which contains stories of a tell-all tale of how she – Karrine Steffans – then a former video vixen nicknamed 'Superhead,' marked her life with drugs, sex and bling in the hip hop industry, as reported on HipHopRX.com.
As a hip hop dancer, Karrine reportedly had run-ins with names such as LL Cool J, Usher, Ja Rule, Ice-T, R. Kelly, as well as Jay-Z, and others.
Rumors thickened when a sexually explosive, Karrine Superhead Steffans sex tape leaked online of the video vixen having sex and performing oral on adult film star, Mr. Marcus.
The thing now is that allegedly the rumors claim, it wasn't during her hip hop dancing sexcapades over 10 years ago when she 'got it in' with Jay-Z but allegedly she or someone's making claims she and Jay-Z 'got it in' just a few years ago before Jay-Z's marriage to Beyonce in April 2008.
As for now, the rumors are purely built around speculation and hearsay.