Nicki Minaj Drake Kiss; She Loves Booty Grabbing Rihanna's Sweet Side (Photos)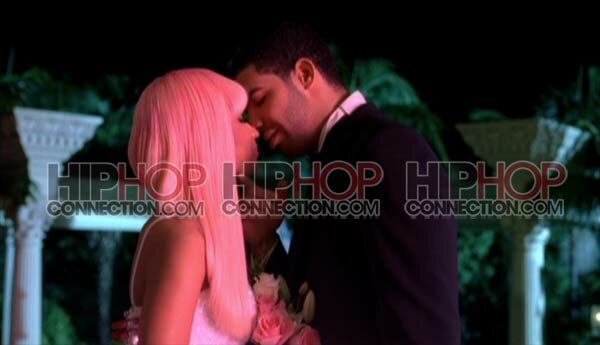 Recently, a picture of Nicki Minaj and rapper Drake, who have long been rumored to be dating one or another, as reported on HipHopRX.com, surfaced on the internet of the two looking like they are about to engage in a kiss.

The pictures, which were obtained by HipHopConnection.com, are reportedly music video stills of Nicki Minaj's "Moment 4 Life" music video filmed with rapper Drake.
In the scene, similar to a wedding scene, Nicki Minaj and Drake lean to each other, Drake in a tux, Nicki Minaj in a bright pink wig and white gown, and for a moment the picture image becomes a kiss.
Nicki Minaj, who's debut "Pink Friday" album has gone platinum, tells E! Online that following this "Moment 4 Life" with Drake, she is this weekend shooting with Rihanna for "Fly."
The video with Rihanna for Fly is being directed by Sanaa Hamri who's helmed videos for Mariah Carey, Prince, and B.o.B., according to MyPinkFriday.com.
Minaj says they are going to save the world with this video, adding that she loves Rihanna, and ass-grabbing aside, she's really a sweet girl, that's when she's not grabbing Nicki Minaj's booty.
Even more interesting, when asked if she was single, Nicki Minaj claims she is 'single and ready to mingle.'