T-Pain Moving Nappy Boy, Signing To Lil Wayne's Young Money Label?!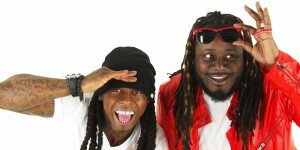 Is T-Pain signing to Lil' Wayne's Young Money Imprint? Word on the net is that the singer turned rapper had his jeweler make a multi-thousand dollar chain piece that reads Nappy Boy/Young Money.
Gabriel Jacobs, a famous Hip-Hop jeweler, recently took to the net to release a video in where he claims T-Pain has hired him to construct a $45,000 pendant made of 200 karats in rubies and 300 karats in diamonds that is equipped with a chain worth over $100,000 as well. This expensive piece of 'bling' is said to read 'Young Money/Nappy Boy' resulting in the rumor that T-Pain is signing with Lil' Wayne's Young Money Ent.

Jacobs stated that after doing this, T-Pain better be signing to Young Money and described the pendent as all blacked out with all natural, red rubies and black diamonds. In addition, Jacobs added that they are going to put a red ruby necklace on it in the video.
T-Pain and Lil' Wayne has collaborated multiple times in the past on songs such as The Carter III's "Got Money" as well as Pain's "Can't Believe It."
There is no proof that Pain is or has signed to Y.M. though Wayne has mentioned some time ago that the two are working on a T-Wayne album. As of press time, there is no set release date for the album.