Brandy's Hot New Tattoo: What Does It Really Mean? (Photos)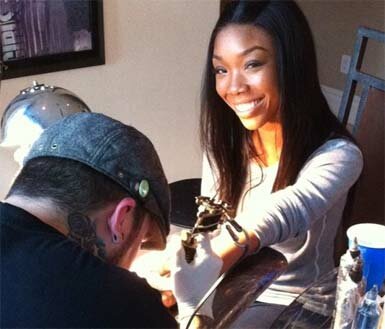 Brandy Norwood and her alter-ego Bran'Nu is buzzing on the Internet due to her newest tattoo which is of the Hindu deity Ganesh (elephant). The singer/actress had the tattoo of the elephant inked on her wrist by California tattoo artist Peter Koskela.

Brandy who recently appeared on Dancing With The Stars twittered that the meaning of the tattoo was "remover of all obstacles."
Brandy she believed that it was an Egyptian god, but was later corrected by her loyal fans and followers that it was a Hindu deity.
Due to her getting the Ganesh tattoo, Hindu statesman Rajan Zed has invited Brandy to explore Hinduism, according to reports.
In other news, Brandy is in a lawsuit with Canadian DJ Marc Mysterio who is reportedly seeking up to $6,000,000 in damages.
Marc Mysterio claims that he lost $25K due to her actions and after she was supposed to write and sing for his lead single. Brandy allegedly accepted $10,000, but failed to deliver.
A trial is scheduled to take place July 27, 2011 after Norwood was denied a motion to dismiss it.