Hugh Hefner Getting Married; Engaged To Playboy Playmate Crystal Harris (Photos)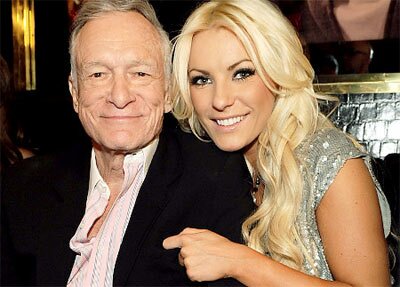 Playboy's founder Hugh Hefner takes his engagement announcement social, tells followers via twitter.
Playboy magazine's founder Hugh Hefner, 84, will be hearing wedding bells for the third time after announcing that he will marry 24 year-old Playboy Playmate model Crystal Harris.

Known for his sexually revealing magazine founded in the 1950′s, the Playboy Mansion and the models that live there, the 84 year-old stated that he gave Harris the engagement ring on Christmas Eve and didn't want to make a mystery of the ring he gave Crystal.
The British-American model and singer is stated to have gotten all teary-eyed when Hugh Hefner popped the question and according to Hefner, the occasion is the happiest Christmas weekend as he put it, "in memory."
Known as December 2009′s playmate model, Crystal Harris twittered that one of her amazing presents from Hugh Hefner was not the engagement ring, but art by one of her favorite artists Wyland which can be seen here.
In 1949 Hugh Hefner married his college school sweetheart Mildred Williams only to divorce her in 1959. His marriage to Mildred Williams was then followed by Kimberley Conrad whom he married in 1989 and divorced earlier this year.
Seems like Hugh Hefner has a 10 year-old trend going on.