Keyshia Cole's Car Impounded After DUI Incident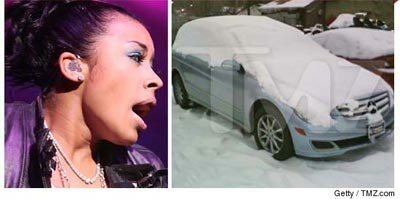 Yes, it's true that Keyshia Cole's car was impounded in Broadview Heights, Ohio for a DUI incident and someone got arrested in the midst of it.

According to TMZ, on December 2nd, Keyshia Cole's nephew was arrested while driving her Mercedes SUV and, during the arrest, he thought he could squeeze himself out of it by telling the arresting officer(s) that he was Keyshia Cole's nephew.
The attempt didn't get him off and he still ended up getting arrested anyway.
Meanwhile, the car is stated to be still impounded sitting under snow and has racked up fees of around $700 plus court fines.
In other news, Keyshia Cole's latest album "Calling All Hearts" released on December 21st. The album "Calling All Hearts" features the likes of Nicki Minaj, Tank, Faith Evans and Timbaland.