Nicole Richie and Joel Madden Kissing Wedding Photos, Details Emerge (Pictures)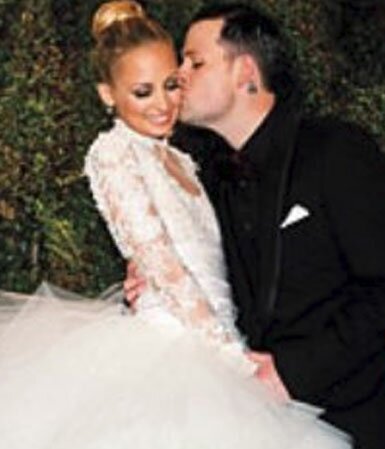 Newly married couple Nicole Richie and Joel Madden wedding pictures and details have surfaced online after reports of the couple's romantic ceremony in Beverly Hills over the weekend.

Joel Madden and Nicole Richie, who were married off by hip hop icon Joseph 'Reverend Run' Simmons aka 'Rev Run,' founding member of hip hop group Run–D.M.C. and TV reality dad on MTV reality show Run's House, exchanged vows the home of Nicole Richie's father Lionel Richie's Beverly Hills estate on Saturday, Dec. 11, as reported on HipHopRx.com.
Over 130 guests of family and friends including Gwen Stefani, Ashlee Simpson, DJ Samantha Ronson, attended the weeding.
People Magazine has obtained the first photo of the happy newlyweds, who married under a tent resembling a French garden.
According to People, Nicole Richie and Joel Madden were married off with their two children, and daughter Harlow, 2, was the flower girl, while son Sparrow, 15 months, acted as ring-bearer.
Nicole Richie, who reportedly wore three different dresses, all designed by Marchesa, claims the wedding day was simply "magical" and best night of her life.
View the pictures of Nicole Richie and Joel Madden Wedding photos.