Caught On Tape: DeSoto High School Basketball's Mason Holland Body Slams Ref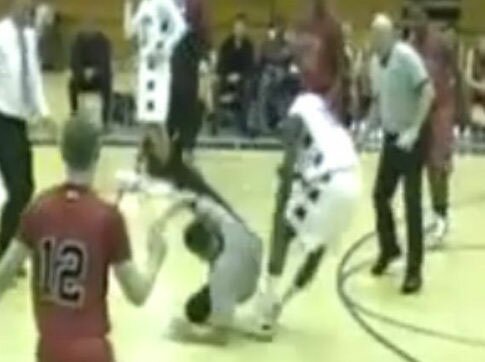 Caught on tape in Desoto County, Florida, one high school basketball game went terribly wrong when an out-of-control high school basketball player attacked a referee because he did not like his call.
DeSoto High School basketball player Mason Holland, a 6-foot-5 forward was caught on tape having an irate episode during a video taped game.

Holland pushed and shoved a referee followed by an attack ending in the referee being picked up by Holland and body slammed to the ground.
Holland, a high school senior, was suspended, and is facing criminal charges from the state attorney's office.
According to Holland's coach, Joe Sheridan, Mason Holland "totally unacceptable behavior" will surely make him not eligible to ever play again.
In regards to the game, DeSoto High School lost to the Port Charlotte High School after referees refused to continue with the game following the incident.
Watch video of the DeSoto County, FL High School Basketball Player Mason Holland attacking and body slamming a referee during a game with Port Charlotte High School.