Anna Oliver Filmed Miley Cyrus Smoking Bong? Fans Send Hate Messages (Photos)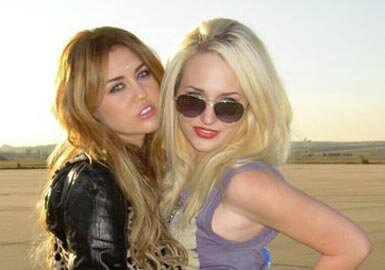 Miley Cyrus isn't the only person getting a bad dose from her actions, Anna Oliver who reportedly filmed the now infamous Miley Cyrus smoking bong video is allegedly getting threats from Miley Cyrus' fans online. Anna Oliver is an alleged close friend of Miley Cyrus and is also the best friend of troubled star and singer Demi Lovato the star of Disney's Sonny with a Chance. If you don't know, reportedly, Demi Lovato is currently in a treatment center for alleged emotional and physical issues after she punched one of her back-up tour dancers.

As for Anna Oliver, she's being called the "bong villain" and has been receiving so many threats that she has gone into hiding and even deleted her twitter and facebook accounts. No one is for certain how someone got a hold of the footage that she took, but all fingers seem to be pointing at her. Many have even pointed out that at the beginning of the video, a woman's voice can be heard saying that they are going to document the hell out it.
Everyone who knows and follows Miley Cyrus, allegedly also noticed that Anna Oliver was missing in action when Miley was hanging out in New Orleans days after the video went viral.
The video in question shows Miley Cyrus smoking a bong which allegedly contains the 'hallucinogenic' drug salvia and shows her speaking incoherently, as covered on HipHopRx.com.
One thing is for sure, this is turning out to be one little troubled circle of friends.