Kim Kardashian, New Boyfriend Kris Humphries Slip Into Hotel On Weekend (Photos)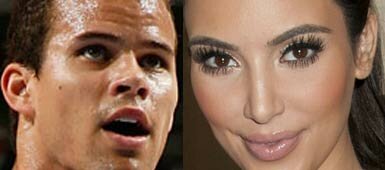 It's apparent that Kim Kardashian may have a new boy toy after being seen with New Jersey Nets basketball player Kris Humphries over the weekend in NY. The two were seen in the wee hours of the morning heading back to Kim Kardashian's hotel room after returning from the Z100′s Jingle Ball concert and the Provocateur Lounge.

This seems to be the first time the two have been captured together since the dating reports.
A few weeks ago, the socialite and Keeping Up With The Kardashians reality TV star was seen at one of Kris Humphries basketball games in New Jersey cheering him on, as reported on HipHopRx.com, after spending Thanksgiving with Gabriel Aubry.
Her appearance with Kris Humphries follows after cutting it short with Halle Berry's ex, model Gabriel Aubry who is also the father of Halle's daughter Nahla.
It's being rumored that the two stopped dating when Kim Kardashian caught much heat from Halle Berry who stated that she didn't want her daughter around a porn star after Kim Kardashian reportedly made the statement she'd make a great step-mom.
Meanwhile, let's see how long this will last and if Kris Humphries can endure the paps and his parents who reportedly don't like the idea of him seeing Kim Kardashian due to her lifestyle and the Hollywood scene.
We'd love to see Kim happy, but the men she's been dating lately seem to wither like petals on a flower after her long-term relationship with Reggie Bush. Maybe she needs to call on love and relationship advisor Tionna Smalls who may need to suggest a new approach and direction like she's helping Chilli of TLC, or maybe some other love and relationship advisor.
Or maybe she just needs her own love reality show?! Hmmm. There's a thought.