Kendra Wilkinson Baskett Gives Up Baby, Hank; Battling With Her Career?!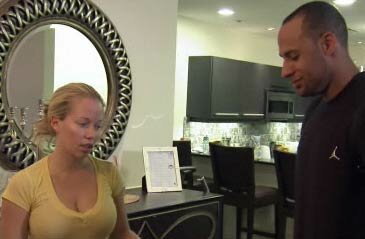 It looks like Kendra Wilkinson has a lot on her plate and that's to decide between making a home with her husband football player Hank Baskett III who was picked by the Minnesota Vikings after being dropped by the Philadelphia Eagles or going back to her career and moving back to L.A. with baby Hank. What's so hard about it is that their family moved to Philadelphia from L.A. for hubby Hank who was suddenly dropped. The very night he was dropped, he was picked up by the Vikings and reportedly had to leave the family for practice in another state.

On an episode of her reality show, Kendra, The Girl Next Door and Playboy model, made sure to voice her opinion when it came time to speak with her husband about maintaining her career and expressed that she was beginning to feel like a football wife and not independent.
The teary eyed star and her husband were hurt with the thoughts that he would miss out on things such as baby Hank's first steps at walking, amongst other important things in a growing toddler's life.
During the discussion, Hank admitted that he knew there were consequences and in the end decided that she should go to L.A. for her career.
According to Kendra Wilkinson, 25, being away from hubby Hank, 28, is really going to wear her down. She's really hurt at having to leave Hank while he does his football especially because she doesn't want him to miss out with their child like it was with her dad.
Meanwhile, sources are saying that Kendra Wilkinson also had to give up full-time parenting of baby Hank for her career. Kendra reportedly ended up letting Baby Hank stay with Hank III's mother. Since then, reports state that baby Hank is spending more time with his father in Minneapolis.
The couple's marriage has had its up and down especially with the release of a sex tape leaked this year, as reported on HipHopRx.com.
It seems Kendra knows that money has to be made and she's trying to keep everything adrift in case something unfortunate happens later on down the line, like Hank getting cut from his team again.
Watch Kendra: Kendra Wilkinson and Hank Baskett Talk Being Independence and Going To L.A.

Kendra and Hank Reunite After Being Apart