Hip Hop Icon Rev Run Weds Nicole Richie, Joel Madden; Wedding Pics in Demand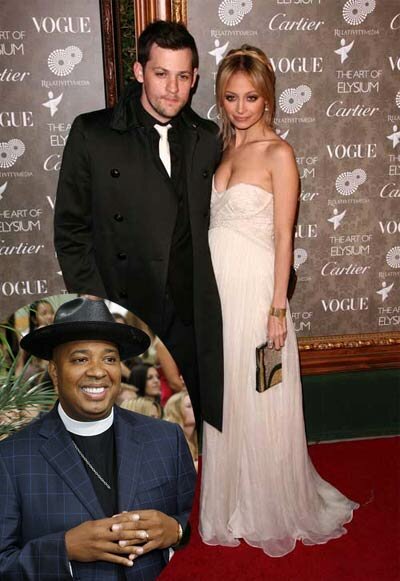 Nicole Richie, the infamous BFF of Paris Hilton, socialite, singer and very beautiful daughter of iconic singer, songwriter and record producer Lionel Richie, has married Good Charlotte lead vocalist Joel Madden in a romantic ceremony in Beverly Hills over the weekend.

The couple was married off by hip hop icon Joseph 'Reverend Run' Simmons aka 'Rev Run,' founding member of hip hop group Run–D.M.C. and head of household of the Simmons' family on MTV reality show Run's House.
Nicole Richie and Joel Madden exchanged vows in front of one of hip-hop's greatest, Reverend Run, and was led into marriage by Rev Run at Nicole Richie's father Lionel Richie's Beverly Hills estate.
At the intimate wedding ceremony were over 130 guests of family and friends including Gwen Stefani, Ashlee Simpson, DJ Samantha Ronson, who was among the bridesmaids, and others.
Serving as best man was Joel Madden's twin brother Benji.
A source tells US Magazine that Joel and Nicole look up to Rev. Run, appreciate his family values, and respects his faith, so that's why he was chosen to officiate their marriage.
Meanwhile, the big demand now are the Nicole Richie, Joel Madden wedding pictures.
Photos of Nicole Richie and Joel Madden wedding pictures has media and all awaiting to see the bride and groom in matrimony.