Miley Cyrus Taped Smoking Salvia Bong, Now 'Under Cover' With Kelly Osbourne?!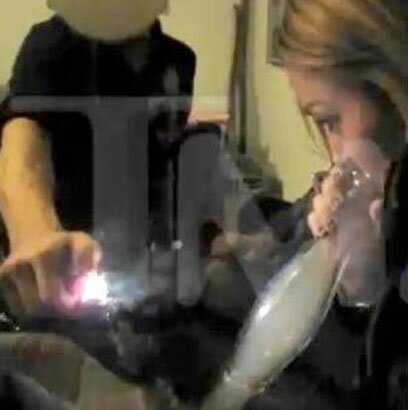 Miley Cyrus may be under the radar for her latest adult episode — being video taped smoking a bong allegedly filled with the "hallucinogenic' herb salvia plus an alleged cellphone pictures leak, as reported on HipHopRX.com — or even under fire by activists and critics — or even under the gun to respond fast to the new smoking bong video — but Miley doesn't seem phased as the actress has reportedly been acting 'unphased' while filming for her new movie role in the comedy film 'So Undercover' where Miley will play a private detective, yes a 'private dick' or should we say a 'private jane.'

According to TMZ sources, Miley Cyrus has been a real 'pro' on the set of the new movie.
Miley Cyrus is reportedly set to star in the new movie alongside movie roommate and rock star offspring Kelly Osbourne.
The two [Miley Cyrus and Kelly Osbourne] will reportedly be working for the FBI (Federal Bureau of Investigation) as agents going 'undercover' as college students and roommates.
Filming has started in New Orleans and reportedly Miley, even while now "under the radar," "under fire," and "under the gun," is reportedly showing no signs of being phased by the now infamous Miley Cyrus Smoking Bong Controversy, even with reportedly her mom Tish possibly being on set as a producer of the movie.
Miley Cyrus Smoking Bong Video

Miley Cyrus Smoking Bong Pictures