Caught On Tape: Taliban Clip Shows US Soldier Hostage in Afghanistan (Photos)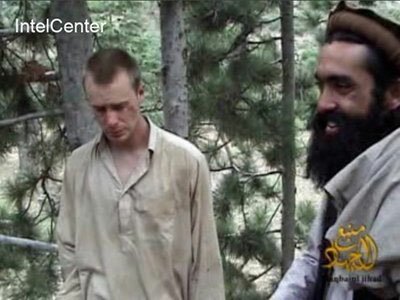 A new Taliban video tape has surfaced that appears to show the only known American soldier held hostage in Afghanistan. 24-year-old American soldier, Spc. Bowe Bergdahl, appears in the newly released Taliban video, for a brief moment, standing next to a smiling insurgent man who threatened to kill Bergdahl once in the tape.

Spc. Bowe Bergdahl is one of four U.S. soldiers captured to appear, since he was captured nearly 18 months ago.
Bergdahl, who is from Hailey, Idaho, can be seen in the Taliban video looking very exhausted with bags under his eyes and an abrasion on his face.
The Taliban video of Bergdahl was given to media on Wednesday by IntelCenter, and "based on the screen shots" in the video, Bergdahl's identity was confirmed by his parents, Bob and Jani Bergdahl.
The smiling insurgent in the video next to Bergdahl was identified by SITE intelligence group as Sangin Zadran, a senior official in the al-Qaida linked Haqqani network in Paktika.
The video has still not been identified as old or new, but NATO and Military officials are "still investigating" the case and while hoping for the best for Bowe Bergdahl, as well as family and friends are hoping the same.