Chelsea Handler Says She Calls 50 Cent 'Curtis!' When They're Having Sex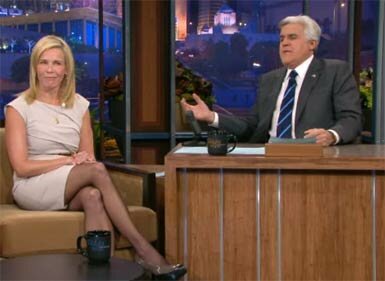 Show host and comedian Chelsea Handler isn't shy when it comes to talking kinky or joking about a romance and after rumors were kind of debunked that 50 Cent and her had more going on, she's back at it again.

During her interview on Tuesday (Nov. 30) on "The Tonight Show" with Jay Leno, Chelsea Handler and Leno took a number of cheap shots at each other before they moved on to questions about G-Unit CEO, 50 Cent.

While Chelsea Handler, 35, was talking about taking her family traveling and keeping her father seperate because he urinates everywhere he goes, she stated why she couldn't bring 50 Cent with her.
"I can't bring 50 Cent with me because he's not a strong swimmer," says Chelsea Handler.
Jay Leno asks, "It's Fiddy Cent, isn't it?"
"I don't know, I call him Curtis when we're having sex," adds Chelsea Handler.
The two were seen a couple of months ago getting all cozy, as reported on HipHopRx.com.
Chelsea Handler quickly gives a news flash that he's only her friend and he won't be able to meet her family until he learns how to swim.
Wonder how deep of a swimmer he must be.
Chelsea Handler on The Tonight Show with Jay Leno – interview starts at around 16:55