Nicki Minaj Tells Prince Harry To Call Her, Says They'd Make A Good Couple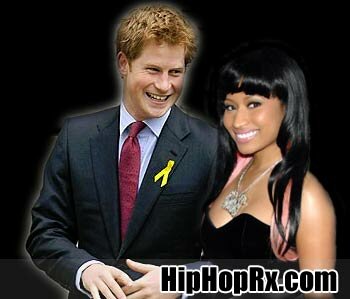 Nicki Minaj has admitted that she fancies Prince Harry of Wales, the grandson of Queen Elizabeth. The hip hop artist thinks that the two of them would make a good couple and she could add to his style.

We're unsure how Prince Harry, 26, the son of the late Diana, Princess of Wales would feel about this, but we're sure he's flattered by the entire gesture.
No wonder Nicki Minaj is also doing those accents.
As for Prince Harry's love interest, the last known lady that he was dating was Chelsy Davy. In October it was reported by a tabloid that the long-time couple who have kept their romance private had split. Prince Harry allegedly is dating Norwegian singer Camilla Romestrand of the British-based band Eddie The Gun.
Maybe Prince Harry can open up some time for Nicki Minaj after he wraps up his brother's engagement where hip hop artist Snoop Dogg may be a performance at the bachelor/stag party, as reported on HipHopRx.com.