Khloe, Kim Kardashian Still Dead To Facebook, Twitter; Donations Lag (Photos)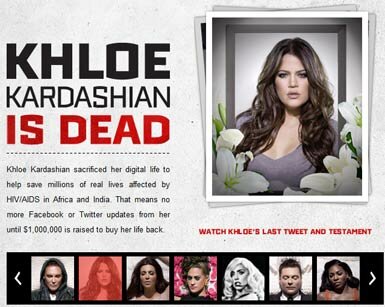 It is now December 3, 2010 and Kardashian sisters Kim Kardashian and Khloe Kardashian are still dead since World AIDS Day (December 1) to social networks Facebook and Twitter.
As reported on HipHopRX.com, the sisters vowed to not make a Twitter post, Facebook post or blog posto until $1 Million is raised at buylife.org to support the Keep a Child Alive campaign.

Kim Kardashian and Khloe Kardashian, along with Justin Timberlake, Serena Williams, Elijah Wood and more celebrities have made a "Digital Life Sacrifice" to help save millions of real lives affected by HIV/AIDS in Africa and India.
As of today (December 3) buylife.org is showing $200,563 raised for the charity, putting their efforts at a little over 20% successful so far, so poor little Kourtney Kardashian, who misses her dead Kardashian sisters, may not be celebrity tweeting with her sisters no time real soon, unless a change comes about fast.
Yahoo's OMG has stated that the campaign made two fundamental mistakes from the jump:
1. The organizers put a $10 minimum on donations. Alicia Keys or Lady Gaga fans might be willing to part with a cup of coffee, but not what it would cost to download their next album on iTunes. The economy hasn't recovered that much.
2. Another critical error — by keeping the celebrities off Twitter and Facebook during the donation process, the campaign is losing an enormous amount of social media marketing — from the "dead" celebrities themselves. What they should've done was have the threat of their collective "digital death" build up while they were allowed to solicit donations from their 30 million-plus followers on Twitter and Facebook today. If fans didn't meet the stated goal, then kill them off, one by one.
Maybe a good way to turn the campaign around would be for other "alive" celebrities to join in now and solicit donations for their celebrity friends and/or vie to die as well. Hmmm.
Meanwhile, to buy back the lives of your favorite celebrity and/or to support the millions of real lives affected by HIV/AIDS, you can log on to www.buylife.org or www.keepachildalive.org.