Eminem, Nicki Minaj, Rihanna Top New Chart Ranked Using Facebook, Twitter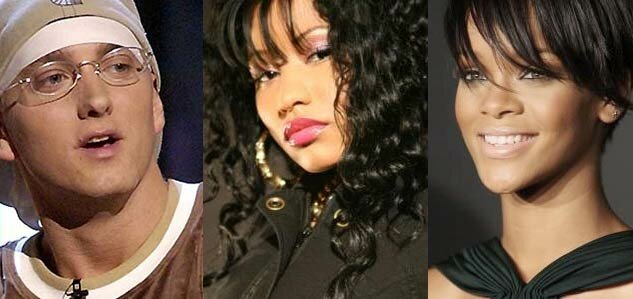 Debuting on the brand new Billboard's 'Social 50′ Chart are Eminem, Nicki Minaj, Justin Bieber, Lay GaGa and Rihanna and not in that particular order.
Billboard, known for ranking artists on sales of music albums, songs, and ringtones has now introduced a new social networking chart ranking the most popular hip, rap, R&b, pop and other music artists on how popular they are on the prominent social networking web sites such as MySpace, YouTube, Facebook, Twitter and iLike.

Popularity is based around how many fans, the ratio of page views to fans, song plays and how much the artist is being shared by those fans.
Topping the new Billboard 'Social 50′ Chart is Rihanna at #1 this first debut week, followed by Justin Bieber at #2, Eminem at #3, Lady Gaga at #4 and Nicki Minaj at #5.

View the 10 most popular artists on social networking sites such as MySpace, YouTube, Facebook, and Twitter, who top the list on Billboard's 'Social 50′ Chart's debut week:
1. Rihanna
2. Justin Bieber
3. Eminem
4. Lady Gaga
5. Nicki Minaj
6. The Black Eyed Peas
7. Katy Perry
8. Ke$ha
9. Linkin Park
10. Shakira