Eminem Leads 2011 Grammys With 10 Nominations, Bruno Mars Gets 7: Full List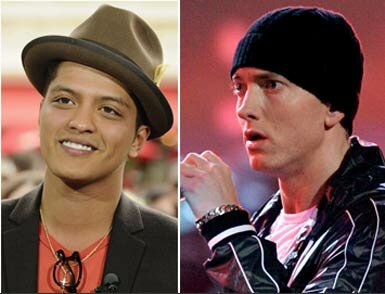 On last night, the 2011 Grammy Nominations Concert took place and aired live on CBS from Club Nokia in Los Angeles. During the concert, nominees for the 53rd Annual Grammy Awards were revealed and Eminem topped the list with Grammy nods.

Hip Hop artist Eminem managed to get 10 nominations which include "Album of the Year" for Recovery. The rapper will going up against Lady GaGa's "The Fame Monster", Katy Perry's "Teenage Dream", Lady Antebellum's "Need You Now and Arcade Fire's "The Suburbs". For the "Best Rap Song" Eminem will be battling himself due to having two songs nominated, "Love the Way You Lie" which features Rihanna and "Not Afraid."
This is the same case for Jay-Z who has two songs nominated for "Best Rap Song," "On to the Next One" featuring Swizz Beatz and Empire State of Mind featuring Alicia Keys.
B.o.B's collaboration with Bruno Mars' song "Nothin' on You" also managed to make it on the "Best Rap Song."
Following behind Eminem in Grammy nominations is rising new artist Bruno Mars who received 7. Bruno Mars will be looking to snag the "Best Male Pop Vocal Performance" which places up against Michael Jackson, John Mayer, Adam Lambert and Michael Buble.
B.o.B., Jay-Z and Lady Gaga all received four Grammy nominations.
And for Drake fans, the Young Money rapper and singer has been nominated for "Best New Artist" and will be going up against teen sensation Justin Bieber, Florence and the Machine, Mumford & Sons and Esperanza Spalding.
The live broadcast for the 2011 Grammy Awards Ceremony is scheduled to take place Sunday, February 13, 2011 on CBS at 8PM ET/PT. The show will be broadcasted from the Staples Center in Los Angeles.
2011 Grammy Awards Nominations List
Song of the Year:
* Lady Antebellum – "Need You Now"
* Eminem ft. Rihanna – "Love the Way You Lie"
* Miranda Lambert – "The House That Built Me"
* Cee-Lo – "F**k You"
* Ray LaMontagne and The Pariah Dogs – "Beg Steal or Borrow"
Record of the Year:
* B.o.B ft. Bruno Mars – "Nothin' on You"
* Eminem ft. Rihanna – "Love the Way You Lie"
* Cee-Lo – "F**k You"
* Jay-Z and Alicia Keys – "Empire State of Mind"
* Lady Antebellum – "Need You Now"
Album of the Year:
* Arcade Fire – "The Suburbs"
* Eminem – "Recovery"
* Lady Antebellum – "Need You Now
* Lady GaGa – "The Fame Monster"
* Katy Perry – "Teenage Dream"
Best New Artist:
* Justin Bieber
* Drake
* Florence and the Machine
* Mumford & Sons
* Esperanza Spalding
Best Female Pop Vocal Performance:
* Sara Bareilles – "King of Anything"
* Beyonce Knowles – "Halo" (Live)
* Norah Jones – "Chasing Pirates"
* Lady GaGa – "Bad Romance"
* Katy Perry – "Teenage Dream"
Best Male Pop Vocal Performance:
* Michael Buble – "Haven't Met You Yet"
* Michael Jackson – "This Is It"
* Adam Lambert – "Whataya Want From Me"
* Bruno Mars – "Just The Way You Are"
* John Mayer – "Half of My Heart"
Best Female Country Vocal Performance:
* Jewel Kilcher – "Satisfied"
* Miranda Lambert – "The House That Built Me"
* LeAnn Rimes – "Swingin' "
* Carrie Underwood – "Temporary Home"
* Gretchen Wilson – "I'd Love To Be Your Last"
Best Pop Performance By a Duo or Group With Vocals:
* "Glee" cast – "Don't Stop Believin' " (Regionals Version)
* Maroon 5 – "Misery"
* Paramore – "The Only Exception"
* Sade – "Babyfather"
* Train – "Hey, Soul Sister" (Live)
Best Pop Collaboration With Vocals:
* B.o.B, Eminem & Hayley Williams – "Airplanes Part II"
* Herbie Hancock, Pink, India.Arie, Seal, Konono No 1, Jeff Beck & Oumou Sangare – "Imagine"
* Elton John & Leon Russell – "If It Wasn't for Bad"
* Lady GaGa & Beyonce Knowles – "Telephone"
* Katy Perry & Snoop Dogg – "California Gurls"
Best Pop Vocal Album:
* Justin Bieber – "My World 2.0″
* Susan Boyle – "I Dreamed a Dream"
* Lady GaGa – "The Fame Monster"
* John Mayer – "Battle Studies"
* Katy Perry – "Teenage Dream"
Best Country Song:
* George Strait – "The Breath You Take"
* Zac Brown Band – "Free"
* Miranda Lambert – "The House That Built Me"
* Gretchen Wilson – " I'd Love to be Your Last"
* The Band Perry – " If I Die Young"
* Lady Antebellum – "Need You Now"
Best Country Album:
* Dierks Bentley – "Up on the Ridge"
* Zac Brown Band – "You Get What You Give"
* Jamey Johnson – "The Guitar Song"
* Lady Antebellum – "Need You Now"
* Miranda Lambert – "Revolution"
Best Rock Song:
* Neil Young – "Angry World"
* Mumford & Sons – "Little Lion Man"
* Kings of Leon – "Radioactive"
* Muse – "Resistance"
* The Black Keys – "Tighten Up"
Best Rock Album:
* Jeff Beck – "Emotion & Commotion"
* Muse – "The Resistance"
* Pearl Jam – "Backspacer"
* Tom Petty & the Heartbreakers – "Mojo"
* Neil Young – "Le Noise"
Best R&B Song:
* Fantasia Barrino – "Bittersweet"
* Jaheim – "Finding My Way Back"
* El DeBarge – "Second Chance"
* John Legend and The Roots – "Shine"
* Kem – "Why Would You Stay"
Best R&B Album:
* Raheem DeVaughn – "The Love & War Masterpeace"
* Fantasia Barrino – "Back to Me"
* Jaheim – "Another Round"
* John Legend and The Roots – "Wake Up!"
* Monica – "Still Standing"
Best Rap Song:
* Jay-Z and Alicia Keys – " Empire State of Mind"
* Eminem and Rihanna – "Love the Way You Lie"
* Eminem – "Not Afraid"
* B.o.B and Bruno Mars – "Nothin' on You"
* Jay-Z and Swizz Beatz – "On to the Next One"
Best Rap Album:
* B.o.B – "B.o.B Presents The Adventures of Bobby Ray"
* Drake – "Thank Me Later"
* Eminem – "Recovery"
* Jay-Z – "The Blueprint 3″
* The Roots – "How I Got Over"
Best Compilation Soundtrack Album for Motion Picture, Television or Other Visual Media:
* "Crazy Heart", Various Artists
* "Glee: The Music, Volume 1″ – Glee Cast
* "Treme" – Various Artists
* "True Blood – Volume 2″ – Various Artists
* "The Twilight Saga's Eclipse" – Various Artists
Update: Lady Gaga – 6 Nominations, Jay-Z – 6 Nominations, B.o.B – 7 Nominations