Snoop Dogg Releases New 'Wet' Song Download For Prince William's Stag Party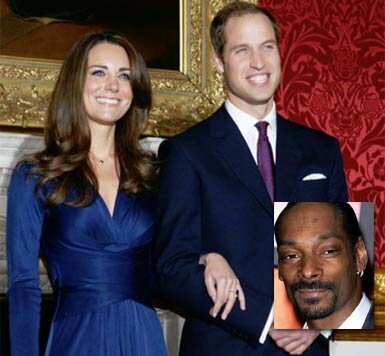 Rapper Snoop Dogg who will be releasing his album Doggumentary Music in March has gotten ecstatic about the royal party being interested in wanting him to perform for Prince William's bachelor aka stag party.

On Tuesday, Snoop Dogg released the new single "Wet" in which he calls a gift for Prince William and the perfect anthem.
Prince William will be marrying off to Kate Middleton whom everyone says is a look-a-like of his child-hood nanny Tiggy Legge-Bourke. It's also being mentioned that his father Prince Charles' wife Camilla Parker Bowels is a look-a-like of his child-hood nanny Mabel Anderson. How cute. Did they want someone who resembled their nannies or was it a coincidence? Hmmm.
Meanwhile, the Prince Williams and Kate Middleton wedding ceremony is scheduled for April 29 and will be held at London's Westminster Abbey.
Check out Snoop Dogg's new single 'Wet.