Caught on Tape: Rihanna's Boyfriend Matt Kemp Cheating 'On The Low'?! (Photos)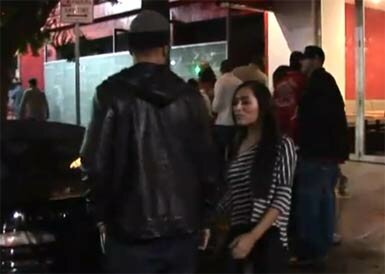 Rihanna's significant other, baseball player Matt Kemp looked to may have been caught cheating 'on the low' and tried to switch it up on the paparazzi. The Los Angeles Dodgers outfielder was seen waiting on his ride, when apparently a woman approached him as if she was about to grab his arm to go with him outside of MyStudio on Hollywood Boulevard.

When Matt Kemp noticed that the paparazzi from Hollywood.TV was in his perimeter, he quickly walked off from the young woman and started walking down the sidewalk talking to a man who was with him.
You little sneaky devil Matt Kemp, that was a good one there.
Meanwhile, the videographer asked Matt was Rihanna and him dating. "Is it true that you are the man right now? There are rumors that you and Rihanna are dating, is there any truth …?" Matt Kemp responded back with, "There are rumors? I could have sworn that it has been known for a while. (laughing) Conquered that."
Rihanna and Matt Kemp have been seen numerous times over the past year and we can't forget the rememberable sighting when they were spotted on a boat together kissing in January and Kemp was squeezing her booty, as reported on HipHopRx.com.