Lady Gaga Gets CNN's Anderson Cooper Drunk During 60 Minutes Interview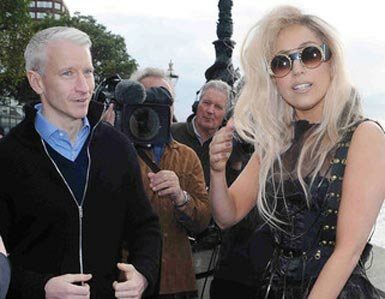 CNN anchor and journalist Anderson Cooper admits to getting a little tipsy with Lady Gaga during a Q&A for her CBS series '60 Minutes' interview, an idea that was in the hands of Lady Gaga to get him relaxed.

According to The Insider, Anderson Cooper who hosts his own show Anderson Cooper 360 on CNN stated that the two hung out at a pub in London and the two drank Jameson. Cooper says that he reallly doesn't drink, but in this case it seems he had no choice especially since he wanted to make Lady Gaga feel also at ease and get the good interview.
"She [Lady Gaga] got me to drink," stated Cooper who says it was like two of them.
Cooper wanted the interview to be over at this point because he could no longer ask any questions.
When describing the controversial 24 year-old over-the-top dressing Pop singer, Anderson Cooper calls Lady Gaga a fascinating person who he got to learn alot about after spending numerous weekends with her over the course of serveral months.
Anderson Cooper's interview with Lady Gaga is scheduled to air Grammy night, February 13, 2011.
In music news, Lady Gaga is prepping the release of her new studio album "Born This Way" which will be released sometime in 2011.
[youtube sMEqyE4kKyI]